Foraging on Fox Island Offers Summertime Delights
Spruce tips, fiddleheads, berries—cuisine goes hyper-local at Kenai Fjords Wilderness Lodge
It may not be where you'd expect to find such an abundance of food—an island off the coast of southcentral Alaska. But Fox Island, home to the Kenai Fjords Wilderness Lodge, is full of many kinds of riches.
Inside the lodge's kitchen, Chef Landon Schoenefeld has embraced the "locally-sourced" ethos and taken it hyper-local. He spends time every day combing the beach in front of the lodge and hiking through the forests of Fox Island. He's walking, hiking, thinking, and foraging. So far, his cuisine—and his inspiration—is flourishing in Resurrection Bay.

A celebrated chef who formerly ran three of the top restaurants in Minneapolis-St. Paul, Chef Landon was drawn to Kenai Fjords Wilderness Lodge as part of a personal journey to connect with the natural world. Out here, he's tapped into the Alaska tradition of foraging for local food sources—harvesting wild plants to use for cooking. It's elevated his cooking in surprising ways.

"Anything that grows wild that you can eat fascinates me," he says. "And this places takes your breath away."

The lodge's 2017 season (Chef Landon's first) started only a few weeks ago, and kicked off with a banner crop of fiddleheads—they're the furled fronds of a young fern rich in omega-3, iron and fiber that have been a staple of Native American diets for centuries. Chef Landon sautéed them with asparagus and served them with Halibut. He also pickled them for future use.
But like the ever-changing weather outside, after only a matter of weeks, the fiddlehead season has come to a close. Chef Landon's now on the lookout for what's next.
This week, he's bringing in beach greens from the shore. It tastes like nori (roasted Japanese-style seaweed) and goes really well with seafood, he says.
"People call it 'beach lovage' and I'm not sure it tastes like lovage," he says. "But it's pretty tasty."
Spruce tips have been a constant since early June in the thick temperate rainforest just behind the lodge that's full of spruce trees. They can be munched on raw or dried for tea.
"I love using them for desserts," Chef Landon says. "They have an amazing citrusy, berry-like flavor."
He makes spruce tip sugar (see recipe below) and has been using that for everything from baking to cakes to custards. "Anywhere you'd use sugar, you can use spruce tips."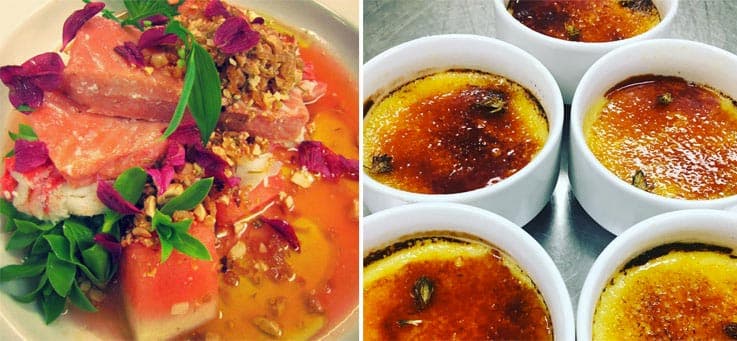 He's also planning on making a green pulp of spruce tip and salt to cure the salmon he's been purchasing directly from a local Seward fisherman.
Next up? Berries, and they should be ready by early to mid-July.
"That's the big one," he says.
Returning lodge staff have been telling Chef Landon to expect "buckets and buckets" of blueberries and salmon berries. There are no bears or other wildlife of note on Fox Island, so that means they're all for Chef Landon and the fortunate lodge guests who will literally be enjoying the fruits of his incredibly talented and inspired labor.
"I'm enjoying my life right now," he says. "Fox Island is, in a word, majestic."
RECIPE: Fox Island Spruce Tip Crème Brûlée from Chef Landon Schoenefeld
1 qt cream
1 cup spruce tip sugar (5-6 large spruce tips / 1 cup of sugar)
8 egg yolks
Bring the cream up to a simmer with the sugar to melt the sugar.
Temper the hot cream into the egg yolks.
Transfer this mixture into crème brûlée dishes
Bake these at 350 in a water bath in the oven, covered with tinfoil but with many holes punched in it so it can vent.
Bake for 25 mins or until set.
When they are set, cool in the refrigerator.
Top crème with sugar and brûlée with a blow torch.
Chef Landon recommends you forage at your own risk. For more information, he suggests the book Plant Lore of an Alaskan Island.
A night at the Kenai Fjords Wilderness Lodge on Fox Island feels like a trip to another world. Join us this summer!