"Think about what human society has always centered around—the kitchen, as a dynamic space and gathering place, is a huge part of our history."
For Chef Wes Choy of Talkeetna Alaskan Lodge, gathering in the kitchen with a group of culinary-minded kindred spirits is about the best day in the office he can ask for. Even better when his office is Fox Island—home to the Kenai Fjords Wilderness Lodge and past retreat of renowned American artist Rockwell Kent.
This summer, Chef Wes is leading an exclusive culinary escape weekend that's also a tribute to Kent. He found himself inspired by the artist's recollections of the time he spent on Fox Island in 1918 and 1919.
"Reading about Rockwell's time here was enamoring," says Chef Wes. "All the beauty that he found here, and the recipes he created—it all ties together perfectly for a culinary retreat."
Chef Wes identifies with both the calming pace of this wilderness setting and the locally-foraged recipes that Kent documented in his book Wilderness: A Journal of Quiet Adventure in Alaska. He has included elements of both in the program, right down to the Fox Island Souffle he'll create with his guests.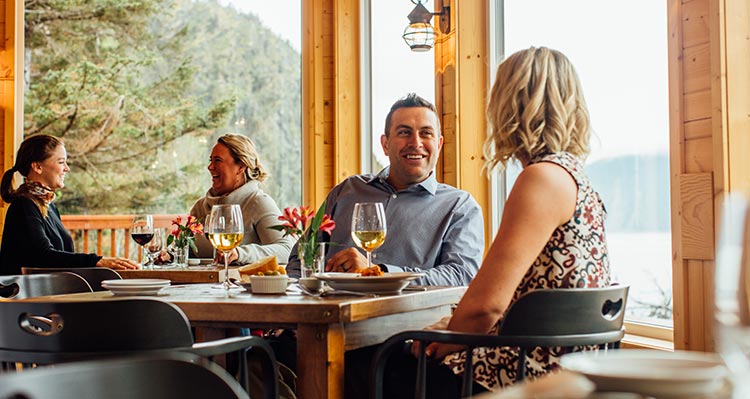 He's looking forward to a weekend of culinary connection and discovery away from it all on this quintessentially Alaska island. Here are five reasons why it might just be the perfect place for you, too.
1. Getting away.
Really away. The Kenai Fjords Wilderness Lodge is only a 12-mile boat ride from the community of Seward, but it feels a world away. With only eight charming cabins nestled along the shore, the resident wildlife far outnumber the people. Chef Wes likes to walk the pebbled beach in the same way Rockwell Kent did 100 years ago. He's also made sure his guests for the weekend will have plenty of time to truly explore this place with guided nature walks and sea kayaking.
2. Connecting with a vibrant past.
"Human history is fascinating—knowing where we've been, and using it as a base to where we want to go," says Chef Wes. "My medium (cooking) is different than Rockwell Kent's, but what inspired him inspires me, too." Especially from a culinarian's point of view, Fox Island holds many secrets and surprises for its guests.
3. Hands-on creativity.
From seafood to berries, the forests and coastal waters of Fox Island offer a diverse variety of tasty ingredients, and Chef Wes can't wait to introduce his guests to them. He enjoys sharing his talents with like-minded foodies. On the first evening of the retreat, he'll bring everyone together in his favorite space—the Lodge kitchen—for an exclusive culinary class.