The fact that Mary Ann Wick has become renowned porcupine quill jewelry artist is a surprise. When she arrived in Alaska from Wyoming 12 years ago, Mary Ann says she'd never have guessed she'd end up where she is today—a successful artisan living in a small cabin off-the-grid outside Talkeetna, her celebrated work for sale at more than 50 shops across the state.
Mary Ann's Stuckonu Quillworks stand at the Talkeetna Artisans Open Air Market is as much a place to shop and peruse as it is a chance to learn about the colorful community of Talkeetna and the characters who live here.
Soon after Mary Ann arrived in Talkeetna, she "ran off and married" Ed Wick, somewhat of a local legend in a region chocked with eccentrics, in that classic Alaska way where love rules all. Together, they came up with what is perhaps the ultimate Alaska creative project—high-quality jewelry made from porcupine quills.
Her earrings, necklaces and bracelets are elaborate and striking.
"Women want other women to notice what they're wearing," she explains. "So if it's easily identifiable as porcupine quills, the jewelry becomes a conversation starter."
The "Roadkill Recyclers"
"Every porcupine is different," says Ed Wick. He's a towering mustached raconteur well-known around Talkeetna, where he's been for 41 years. (It's said he is the inspiration for the character "Ed" on the former CBS show Northern Exposure.) Ed has worked in everything from logging and surveying to guiding and commercial fishing. "In this country, you just work," he says.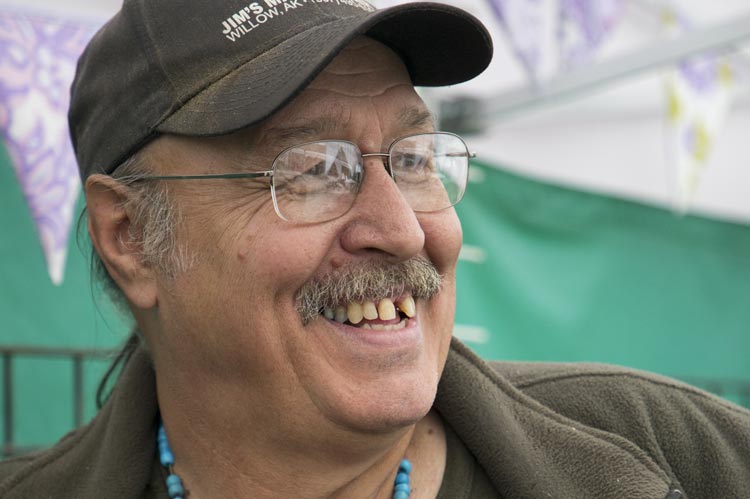 So, to make the business a reality, the Wicks have built up what they call a 'network' of porcupine roadkill deliveries—"Alaska's got a bunch of them," Ed says. Then, he pulls the quills and dyes them with natural colors, all by hand. For him, it's a serious process that he's come to be a master at. Ed knows a lot about porcupine quills. The "big, heavy defensive quills" come from behind the porcupine's shoulders, he says. The porcupine's age and the time of year they're harvested can also impact the quality and color of the quill. Winter ones are oilier and summer ones can be almost bleached by the sun. Young quills can be bright white with a black tip. Every porcupine is different, he says.
"They're an animal with a disposition that's really sweet. But unfortunately they just don't do what they're supposed to," Ed says. That's what leads to their demise and what brings them to him and Mary Ann.
An Eye for Fashion
Mary Ann picked up traditional quillwork embroidery as a side-project a few years ago, spurred on by an interest in living history events. She was looking for a way to earn some extra money. Encouragement from her husband and daughter helped her find a vision for quillwork jewelry that was modern and trendy. "My daughter said, 'Mom, you've got to give it some bling.'"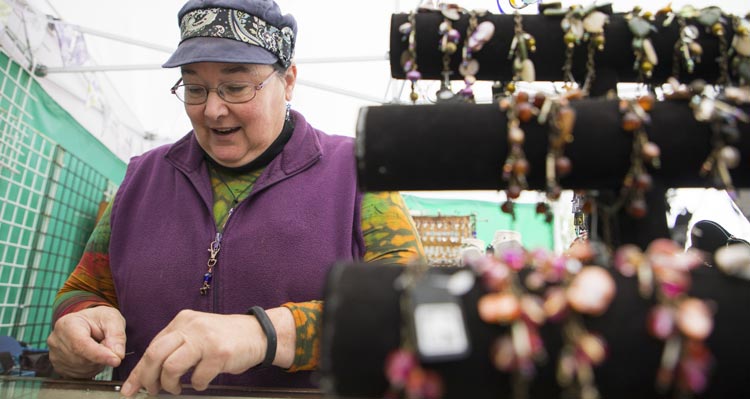 She keeps an eye on fashion trends in an effort to provide her clientele with what they most want, although "blue, green and purple will always sell best."
She's also evolved the quality of the jewelry. Unlike more traditional quillwork, Mary Ann mounts hers on metal head pins and makes the links of the chain by hand. She makes sure there's no pressure on the quills, with beads on top and bottom to protect the quills. About eight years ago, she moved into more contemporary styles and began using crystals.
Building the business has been a lot of fun for Mary Ann and Ed. And it's been a big surprise as well. "I am obsessed with what I do. I'm always working," she says.
Mary-Ann's work is now sold in 50 shops from Ketchikan to Fairbanks, including the Tokosha Gift Shop at the Talkeetna Alaskan Lodge.
Part of what makes Mary Ann's jewelry so appealing is her personal story and its authenticity to place, says Tokosha's manager Jaelene Boyce.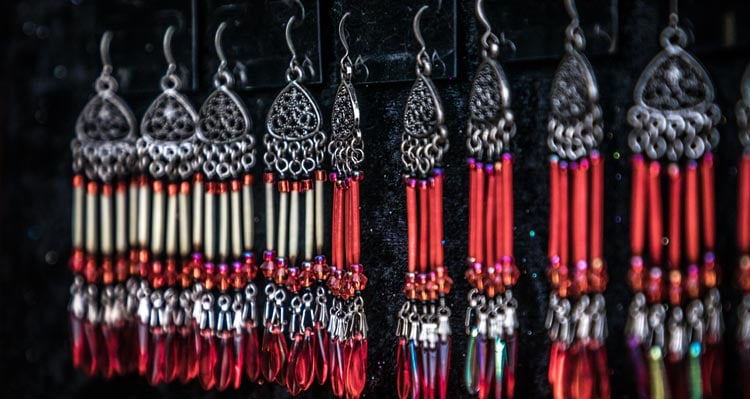 "Not only is their work from Talkeetna, Alaska, it screams Talkeetna and Alaska," she says. "Sometimes, if you smell their jewelry card, ever so lightly, you can still smell the woodstove. It is easy to imagine them working in their small cabin, snow hanging off the roof."
A Great Alaskan Love Story
Like so many Alaskans, Mary Ann feels a persistent pull to the Lower 48, where her daughter and grandchildren live. But it's her heart that keeps her here in Talkeetna. The often-surprising success of Stuckonu Quillworks helps, of course.
"Mostly, I am over the moon about my work and my husband, neither of which would really work in another location," she says "Wild mules wouldn't drag him out of Alaska. I like him, so I stay."
Quintessential Talkeetna Characters
Ed and Mary Ann were featured on the Railroad Alaska reality show, and live off the grid on 50 acres, 15 miles from Talkeetna. Ed says if he needs running water, "I run and get it from the crick."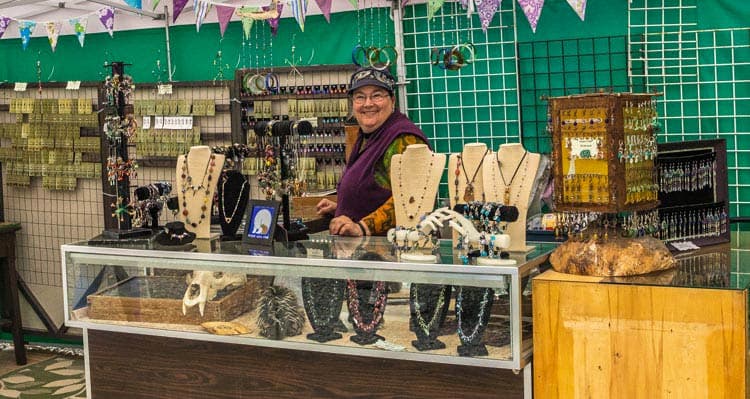 They come into town for the mail and during the summers to peddle their jewelry at the market. They both agree that although the town has changed with increased tourism, it's still essentially "a place where a bunch of non-conformists agree to get along."
Next time you're in Talkeetna, visit Ed and Mary Ann at the market. For 2018, they'll be at the Mountain Traders Market at the end of Main Street. And be sure to stop into Tokosha Gift Shop in the Talkeetna Alaskan Lodge to bring a pair of these spectacular earrings or a bracelet home with you.