Denali National Park offers a chance to experience the wonders of northern wilderness first-hand. Home to North America's tallest peak and park namesake, six million acres of wildflowers, boreal forests and wildlife, Denali welcomes visitors from near and far.
Denali's six campgrounds, which are managed by the National Park Service, differ depending on just how off-the-grid you're looking to get. So, we've broken down what to expect from each to find your right match.
Riley Creek Campground
Of Denali's six campgrounds, Riley Creek Campground's 142 RV and tent sites offer the most modern comforts. With staff, laundry and restrooms on-site, along with seasonal Internet and year-round cell reception, Riley Creek allows visitors to answer the call of the wild comfortably. Riley Creek is the only Denali campground open year-round—others are limited to summer only—and one of three campgrounds that permits fires. So, if s'mores are a camping essential, Riley Creek is a great option.
Savage River Campground
Situated within a spruce forest 13 miles into Denali on the Park Road (the only road in Denali) sits Savage River Campground. Consisting of 32 sites out of cellphone range, Savage River is slightly more secluded than Riley Creek, though RVs are still welcome. Flush toilets, firepits and potable water are among the amenities offered.
Take a short walk down to Savage River itself for an opening among the trees where Denali is visible on clear days.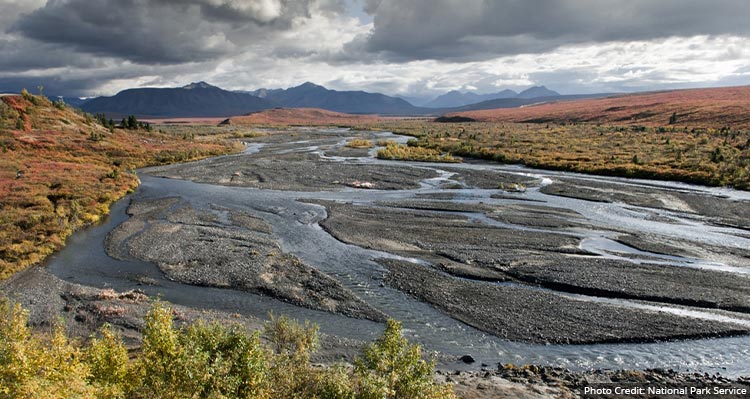 Sanctuary River Campground
Sanctuary River Campground marks a shift in Denali camping experience, as all campgrounds beyond Savage River are accessible only by park shuttle bus (with the exception of Teklanika River—more on that below).
Sanctuary Creek is a "walk-in" campground, meaning you cannot reserve a spot and must check availability either at Denali Bus Depot or Riley Creek Mercantile. Those able to snag a spot will enjoy an unique experience, with the rush of Sanctuary River sound-tracking your stay. With no potable water, the clear river also comes in handy for hydration—remember to pack a filter or purification tablets if you're visiting, along with a camp grill as fires are prohibited in the campground.
Teklanika River Campground
Commonly referred to as Tek, Denali's second largest campground allows for awe-inspiring views 29 miles into Denali. RVs and private vehicles are allowed at the campground, with the caveat of a three-night minimum stay. The shuttle bus can also get you there. Be sure to pack smart if you're headed to Tek—firepits are available, though firewood is not sold nearby. A couple other essentials: hiking boots to explore the extensive trails and bear spray to keep you safe from some of the park's furry residents.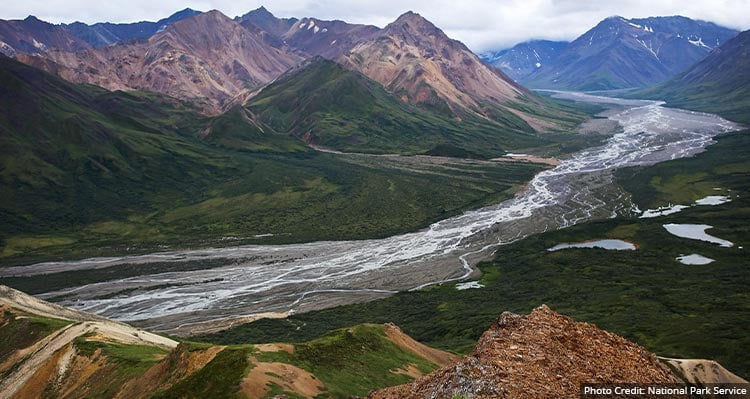 Igloo Creek Campground
Keep your eyes pointed skyward at Igloo Creek for some views of Alaska's natural wonders. While neighboring Igloo and Cathedral mountains are sure bets at this tiny seven-spot tenting campground, a hike out to Sable Pass is a well-known trek to also get a look at raptors in flight, such as golden eagles. Like Savage River, Igloo Creek is a walk-in site, so check before going and pack smartly, with filters, purification tablets and a camping grill.
Wonder Lake Campground
At mile 85 of Park Road is Wonder Lake Campground—the closest lodging to Denali's towering peak in the park. With 28 tent-only sites, this campground offers sightseeing quite unlike anywhere else. Wonder Lake has a few basic amenities, including potable water and washroom facilities, though fires are still prohibited, and some boggy conditions make it a good place to breakout the mosquito head nets.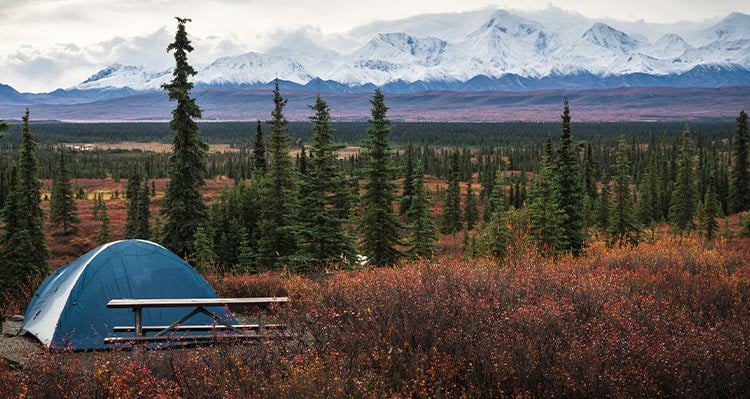 Planning your Denali adventure? Head to the National Park Services site. There, you can find more info on each campground, including transportation, reservations, restrictions and other need-to-knows.