Denali National Park spans an incredible 9,492 square miles. The protected preserve is remote, rugged, and teeming with wildlife. There are 160 species of birds and 38 species of mammals within the park, and of these, it's Denali's bears that garner the most excitement.
If you're hoping to spot a bear in Denali on your next Alaska adventure, here are some key facts and safety tips you should know:
What type of bear species live in Denali?
Black bears and brown grizzly bears inhabit Denali National Park. Research estimates that approximately 300–350 grizzlies roam the north side of the Alaska Range. It's thought that the south side has an even higher count thanks to the region's many salmon streams. Research conducted on the park's black bear population estimates 200 bears south of the Alaska Range. Numbers on the north side are unknown at this time.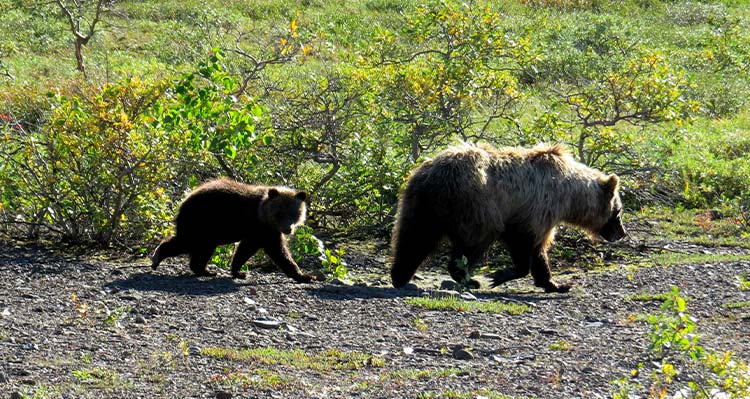 When is the best time to see bears in Denali?
Denali's black and grizzly bears generally hibernate between October and April. Come May, the beautiful beasts emerge from their dens in search of food. Bear sightings generally occur right through to mid-September. Dawn and dusk are usually the best times for wildlife watching; however, Denali's bears are busy creatures during summer and can be spotted throughout the day.
Where is the best place to see a bear in Denali National Park?
Solitary in nature, Denali's bears are most likely to be sighted alone or as a small family grouping of mother and cubs.
Grizzlies tend to roam on open tundra and along stream and river banks, searching for food. Berries, roots and bulbs sustain them early in the season; however, grizzlies also eat ground squirrels, salmon—when available—moose calves and even sheep. A bus tour along Denali Park Road offers your best chance to see a grizzly. The section between miles 20 and 60 tends to be a hotspot!
Black bears frequent the park's forested areas, with most sightings occurring on the west side of the park and south of the Alaska Range.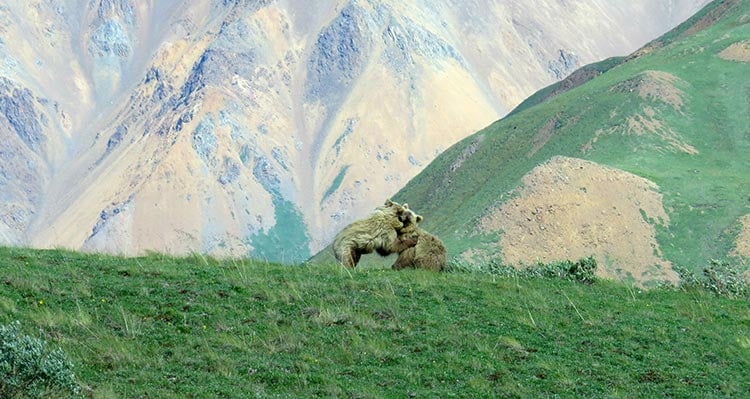 How far of a distance should I keep when viewing bears in Denali?
Ideally, your impromptu bear sighting happens from the comfort of a secure vehicle like a guided bus tour. If this is the case, your driver will pull over to the side of the road—to prevent a wildlife traffic jam. Stay in your vehicle and enjoy the moment. Three hundred yards is the minimum distance you should maintain between yourself and a bear. The rule of thumb is that if a wild animal adjusts its behavior because of your presence, then you've come too close.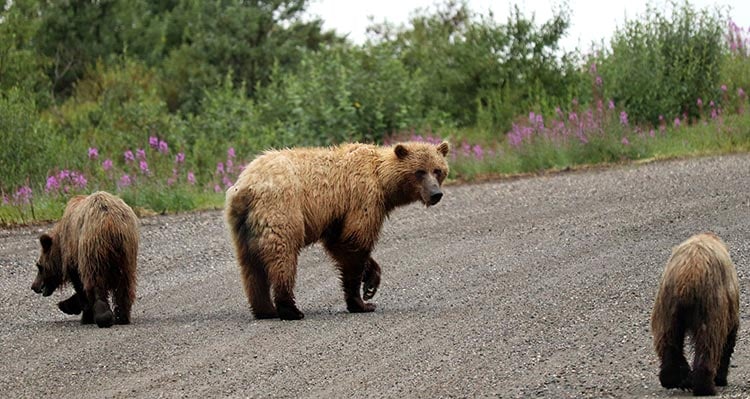 How can I be bear safe when exploring Denali National Park?
If you plan to explore any of Denali National Park's hiking trails, it's critical to be aware of these key bear safety rules.
Check online or with a park ranger for any recent area bear sightings and warnings.
Always hike in pairs or with a group and make plenty of noise along the trail.
Watch for signs like fresh tracks, dung, or an animal carcass. Immediately turn around if you see any recent bear activity.
Avoid hiking in thick brush, and try to stay visible at all times.
Pack food in bear-proof containers, and bring wrappers and food waste back with you.
Always carry bear spray and know how to use it.
Remember the 300-yard rule, and change your route if you encounter a bear on the trail.
If you're a guest at the amazing Denali Backcountry Lodge, your hiking outings will be accompanied by a local naturalist-hiking leader who will help with wildlife safety. Call a local Alaska travel specialist to start planning your Denali National Park adventure and to secure your stay at the Denali Backcountry Lodge.