2,802 miles. It's the distance across the entire US, and the number of miles of trails that volunteers across the country pledged to improve on National Trails Day on June 2, 2018.
Alaska's network of hiking trails wind through some of the most spectacular landscapes in the world. Some of these trails lead right past the Talkeetna Alaskan Lodge. From the deck of the lodge, guests and staff stare across the treetops to views of the entire Alaska Range. For the team at the lodge, a chance to give something back to the natural world that is their playground and their inspiration was a day well-spent.
Teams for Trails
"Winters in Alaska are harsh, and the impact on local trails is easy to see," says Talkeetna Alaskan Lodge's Spencer Lorrig. "For the people of Talkeetna, taking care of this place is really important."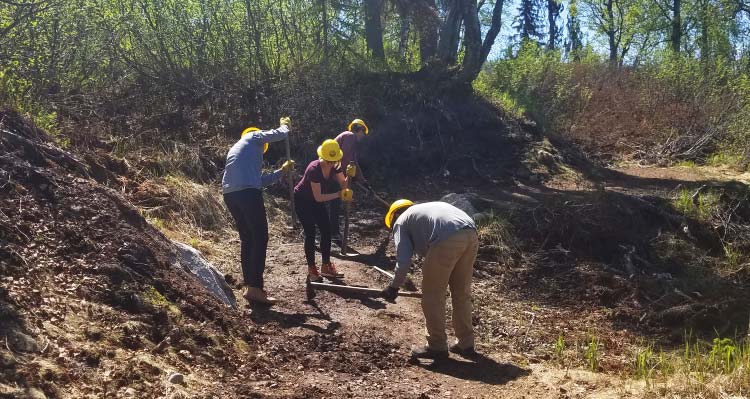 Spencer first volunteered for a National Trails Day event in the summer of 2017, his first season at the lodge. He joined a trail-building event in nearby Denali State Park that was organized by local trail crew leaders and supported by Alaska State Parks. Spencer was inspired by the positive impact that this volunteer crew was able to make. "Seeing the work that this trail crew does on a regular basis, it made me realize how most people who use the trails don't know about the effort that goes into maintaining them," he says.
Darcy Harris, Alaska State Trails Program Manager for Alaska State Parks, couldn't agree more. Parks agencies provide support and some funding in the form of grants for trail care, but it's the volunteers who breathe new life into well-worn trails and build new ones. The community-driven aspect of trail work events is what Darcy feels makes them so special.
"It's a huge team effort to make these things happen—it takes a lot of people who care," Darcy says. "The work of volunteers is what helps people to have a connection to their trails, the land, the community and how important it is to work together."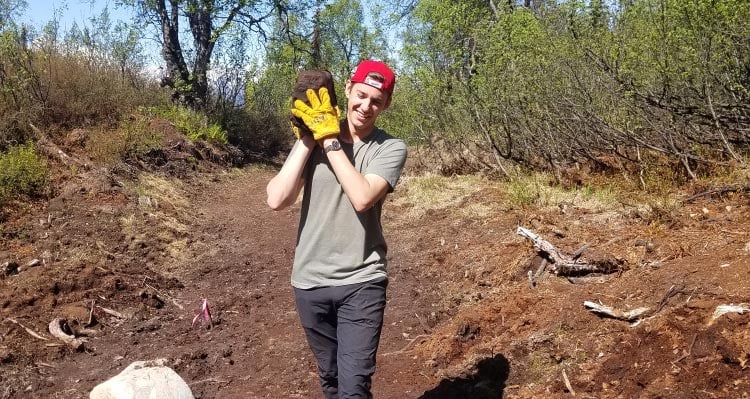 Leaving a (Positive) Mark
Last year on National Trails Day, Spencer worked on an ongoing extension of the K'esugi Ridge (Curry Ridge) Trail that currently traces 37 miles of alpine ridgeline. When his parents came to visit him in Talkeetna, he took them to the trail. "I could tell them that literally, my hands made this new section of the trail," he says. "That's something I'll remember for the rest of my life."
This year, Spencer rounded up a crew of colleagues from the Talkeetna Alaskan Lodge to join him. After the record-breaking snowfall of the past winter, the section of the ridge where Spencer worked last year was still buried in nearly three feet of snow. The volunteers were kept busy resurfacing and repairing the popular area of the trail at lower elevation.
Spencer has no doubt he'll back soon though—in fact, he has plans to complete the full three-day hike this summer. "I plan to come back for years to come," he says. "I'm leaving my mark here, and it's a positive one."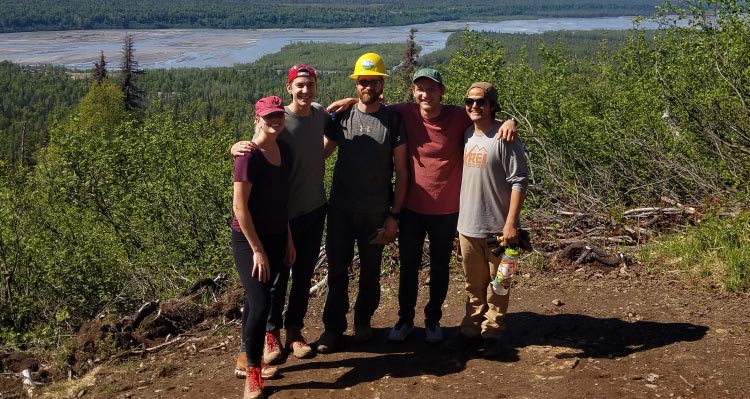 Tips for Responsible Trail Use
Heading out on the trails soon? Darcy has a few suggestions on how to do your part in making a change for the better.
Respect trail boundaries. Staying on designated trails keeps the surrounding flora and fauna safe.
Be mindful of early season trail and weather conditions. In Alaska, the spring snow melt softens trails and makes them more susceptible to damage.
Leave trails in better condition than you found them. Aim to pick up just one piece of litter every time you head out.
Keep water sources pristine. Pollutants in the water system travel far. Make sure to not leave traces of soap, sunscreen or bug spray in rivers or lakes.
Take personal responsibility for your own safety. Knowing your own abilities and being prepared will allow you to enjoy your time on the trails, follow the above tips and lead by example.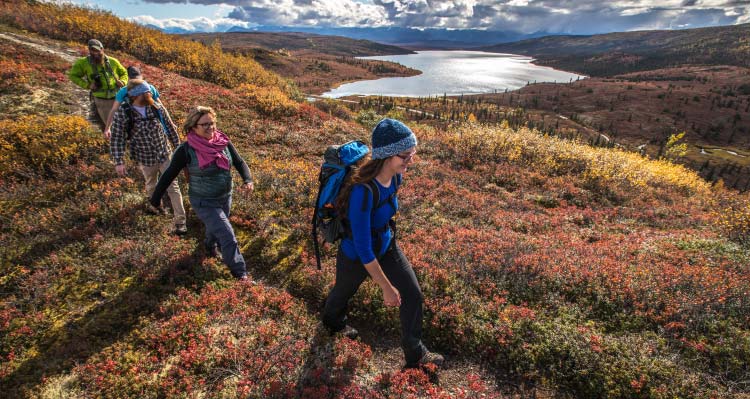 One of the added benefits that Darcy loves about volunteer events like National Trails Day is the extra encouragement it provides to get outside. "Most of us spend far too much time looking at screens, driving in cars, being distracted," she says. "It's really good to get back to where there's nothing beeping or flashing!"