One night, after eating seconds of something delicious at dinner, I went for a walk up the hill behind the Denali Backcountry Lodge. I wanted to find the moon.
My legs and back were still pleasantly sore from the hike I'd taken earlier that day with a lovely family from Boston, a wise woman from New Jersey and our petroleum-engineer-turned-naturalist guide, Joe. The hike to Wickersham Dome and on to Eagle Point was stunning and remains the highlight of my fitness tracker's electronic life (30,138 steps, 271 floors, and 261 active minutes).
This evening, I was late setting out. It was at a time of night when the Lower 48 would have been tucked in under a blanket of darkness. Not in Denali. No, here the sun hid just below the other side of the hills to the northwest, but the sky was still generously lit in a sherbet glow. The trees, the sky, the clouds were all soft watercolors smudged together, variations of the same unknowable substance. The solstice had been the day before; darkness would not again accompany night here until much later in the summer. I closed my eyes and wished for a pink moon.
A return to Denali
Seventeen years earlier, I'd worked for Denali Cabins on the George Parks Highway. As part of my job, I'd driven the Park Road many times that summer to and from Denali Backcountry Lodge.
It was on a not-night in 2001 just like this one when I'd last seen the moon looking like this, full and huge and as pink as an Easter egg.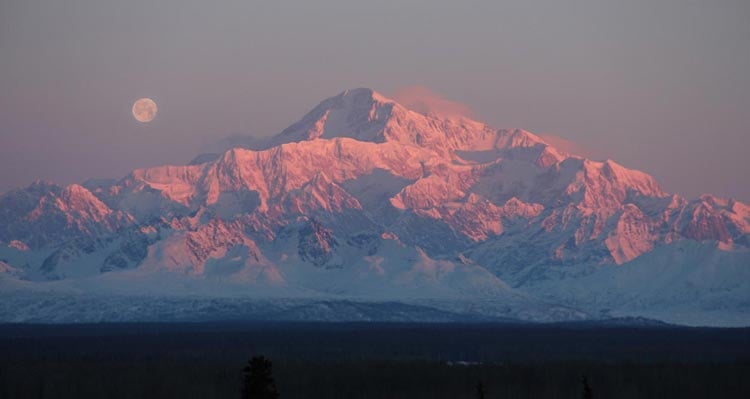 This was shortly after Nick Drake's song, "Pink Moon," had been featured in a commercial to sell a convertible. That long-ago night, I had been listening to Nick Drake's CD on shuffle, and though it sounds unlikely, "Pink Moon" came on as I stared, dumbstruck, at the first pink moon I'd encountered in my life. I had the urge to find someone to grab by the sleeve, point at the sky, hook my wraparound headphones over their ears, and wait for the person to be stupefied, but I was alone. It's a short little song that ended before I'd had a chance to properly relish it, but I did not replay it. I didn't want to ruin the memory of the moment by creating a second, diluted version of it.
Maybe that's why it took me 17 years to return to Alaska. I was afraid of watering down my incredible memories of 2001. That whole summer, back and forth between Denali Cabins and Denali Backcountry Lodge, had felt like one long "Pink Moon" moment. So intense was the experience that I dared not to explain it to people back home. It wasn't the coincidence of the song playing in my ears as I looked up at the moon that shook me. It was the feeling of exactitude, of symbiosis and surprise at a moment of perfection.
Eternal inspiration
When I was planning my return in 2018 to Denali Backcountry Lodge to research the book I'm writing, I made arrangements to visit as a guest. I set my expectations for magical moments low. Yes, I wanted to be amazed by Denali again, but I didn't think it was possible to recapture the intensity of seeing Polychrome Pass or Eielson or the pink moon. Those feelings were ephemeral, like the electricity of a first kiss.
And I was right. When I returned, I did not feel carbon-copied emotions of my 2001 experiences. In 2018, I loved the park more. I have been no place on earth where life makes as much sense as it does in Kantishna. It made sense to me then; it makes sense to me now.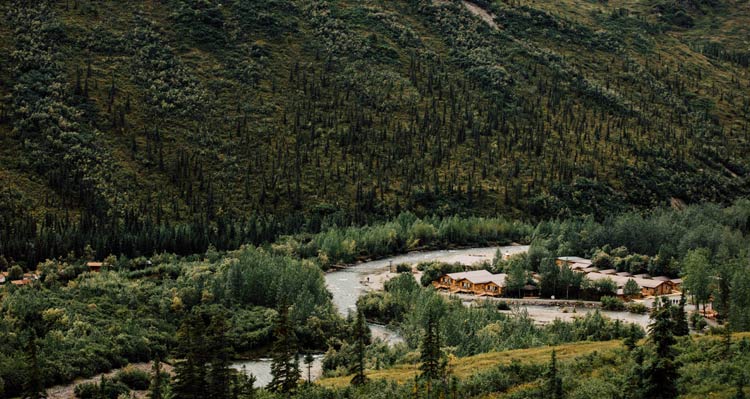 Denali is a choice
In the shadow of the massif that is Denali and the 17 years that had transpired, I felt a greater awareness and appreciation for nature's supremacy and for my own, often forgotten, ability to choose how to spend my time.
As I walked up the hill, belly full, my body felt relaxed in a way I only achieve when I stop trying to relax. First, the muscles in my face eased; the rest of my body followed, and for a while, I didn't, couldn't, think about a thing. For me, this is one of the greatest gifts of being alone in the wilderness.