After Denali and Mount Foraker, Mount Hunter is the third-highest peak in the Alaska Range. If you're lucky and the day is clear, you can see it from the deck at Talkeetna Alaskan Lodge. There are many things we love about this peak. So many, in fact, that we were inspired to name the new Mount Hunter Coffee Co after it. Here are a few:
1. It's serious business. Mount Hunter is considered by alpinists to be a more serious and challenging (albeit less popular) climb than its neighbor, Denali. Actually, it's considered the most difficult 14,000-foot climb in all of North America. Routes on Mount Hunter are steeper and more technical, even if they're not as high as routes on Denali.
2. It's Denali's child. The original Dena'ina name for Mount Hunter is Begguya, which translates to "Denali's Child". The current name for the peak comes from an early mountaineer named Frederick Cook, whose attempt on a nearby peak was financed by his aunt Anna Falconnet Hunter. The name stuck when a surveyor mistook Cook's peak for this one.
3. It's icy at the top. The complex summit of Mount Hunter is covered by a large glacier plateau.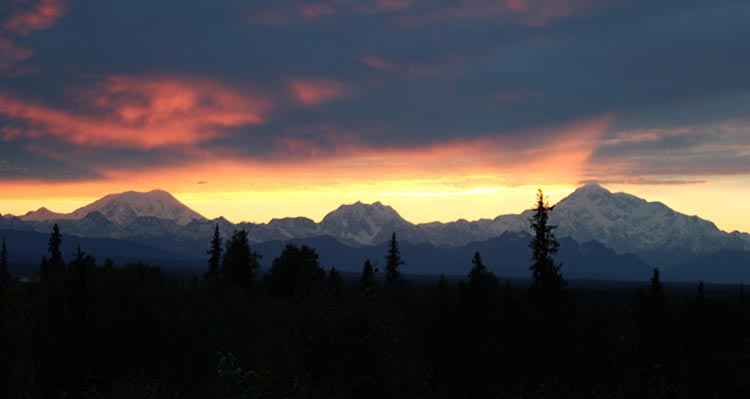 4. It's also icy at the bottom. The foot of Mount Hunter meets the 44-mile long Kahiltna Glacier, the longest glacier in the Alaska Range. The Kahiltna serves as a base camp for many mountaineering trips in the range.
5. There are two summits. Mount Hunter has both a north and a south summit. While the North summit (14,583 ft) is considered the main, it's joined via a long cornice-covered ridge with the South (13,965 ft).
6. It's alpine climbing history. The first ascent of Mount Hunter was done in 1954 by a group of legends—the renegade and iconoclastic American climber Fred Beckey, Austrian mountaineer Heinrich Herrer (who wrote the book "Seven Years in Tibet") and fellow adventurer Henry Meybohm—in a ground-breaking feat that stands up today as one of the most audacious climbs ever completed in the Alaska Range. That same season, the trio also put up a first ascent on an unclimbed route on Denali and two other first ascents.
If there ever was a peak in Alaska that generated a sense of awe and inspiration, it's Mount Hunter.