Martin Brewer: Driven to Explore
Whatever you do, do it with love. From the hockey rink to the Denali Park Road, Denali Backcountry Adventure's driver guide Martin Brewer is a man with a big heart.
Alaska Mornings
Martin's day starts early. He's up at well before dawn at his home in Healy, Alaska, just outside the main entrance to Denali National Park. Before he slips out the door letting his wife Lori sleep on, he makes a French press. "I just need my coffee," he says. Then, he drives 25 minutes to where his bus awaits.
Martin checks in at 5:15 AM, gets his fellow drivers organized, does pre-trip vehicle checks and the final preparations to take a small group of very fortunate visitors 92 miles deep into Denali National Park. Pick ups start at 6 AM as the sun starts to rise.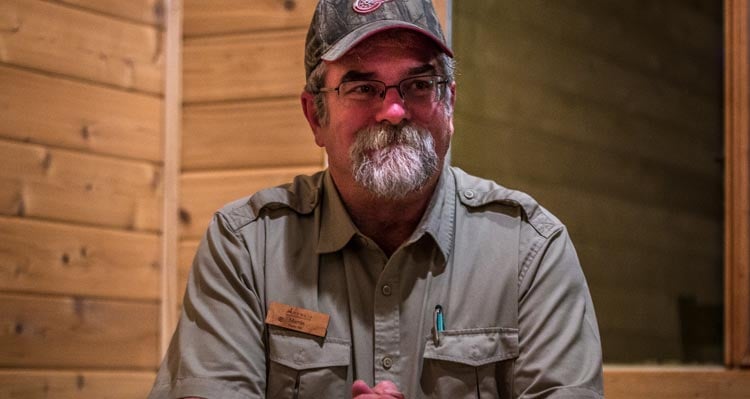 Once everyone is on board, Martin turns the bus west on to the Denali Park Road. Guests will know the trip has officially begun when Martin cracks a joke.
"When I shut the door for the last time, or shortly thereafter, I try to lighten the mode a bit," he says. There are no guarantees that he'll get a laugh. But he feels it's important that everyone feels relaxed—this journey is about awe, wonder and joy.
It's a challenging and rewarding job, one Martin has been working at for decades.
Keeping His Eyes on the Road
"There's a lot of technique and memorization involved," Martin says, with asked how to handle the stress and challenges of driving such a windey, rugged yet stunning road. There are deep cliffs, hairpin turns, and the potential for big wildlife at every moment. "I learned a long time ago—and I've been on this road for decades—to memorize the road."
Martin says he knows every rock, every turn, every bush. That sense of confidence is crucial to being open to all the spontaneity and unexpected moments that characterize a day on the Denali Backcountry Adventure. That could include spotting a grizzly bear, seeing moose wade across Wonder Lake, watching the "Big Mountain" emerge from the clouds or something more demanding like a sudden snowfall.