Along the 92 miles of the Denali Park Road, chances are really good that you'll see some amazing wildlife. When it comes to seeing a grizzly bear in the wilds of Denali, your attitude may be just as important as your ability.
With the guidance of the driver-guides from Denali Backcountry Adventure, you'll be prepared and able to help them spot the Big Five.
If you've got your heart set on spotting a grizzly bear, here are some things to keep in mind.
Don't try too hard. Be open to the experience and the element of surprise. Sometimes, you're so determined to see a grizzly that you tune out everything else. And, what you may think is a grizzly won't be. And if there is one, you could miss it altogether! So, try to relax and take in the entire landscape—that's when the bear may simply appear.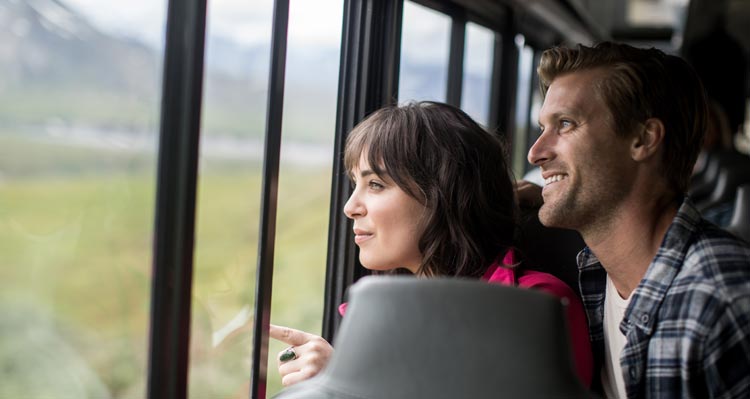 Look for anomalies. As you scan the landscape, look for anything that stands out. Keep your eyes moving as you look for different shapes and colors. Something that just jumps out as 'wrong' is possibly going to be an animal. For grizzlies, look for brown 'blobs' about the size of a large boulder and zero in on them. If you see it, shout it out.
Movement. Scan everywhere for anything that's moving. In a static landscape, animals are the ones that roam. If you keep your focus on the macro element (a shape or a few shapes on the move), it'll help you know when to stop and look more closely at something in the micro (that's when you pull out your binoculars!).
Feasting time. During the summer, grizzly bears in Denali are focused on fattening up for the winter. Their days are spent eating as much as possible. Depending on the time of year and the stage in the seasonal cycle, grizzly bears may be down in river bottoms or gravel bars digging for roots. In the height of summer, grizzlies may move further up the slopes to chase ground squirrels and by late summer, they generally head back to the river bottoms and to the berry patches, where you'll see them nose down at the 'buffet'.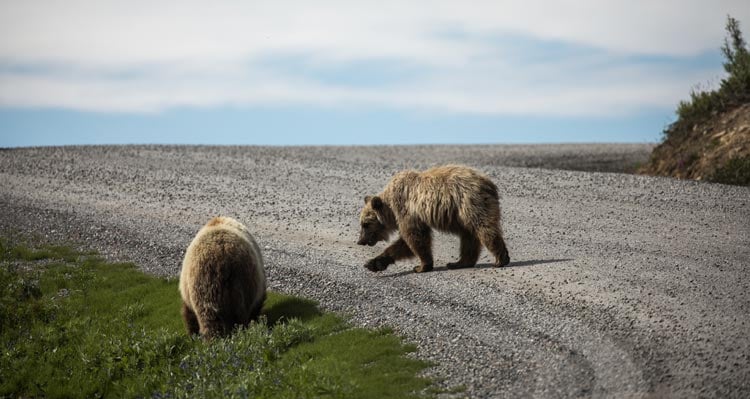 Daytime hours. Unlike moose, which are most active when it's really quiet out, bears are busy all day during the summer. Studies in Denali National Park have shown that, although the time of day of your exploration of the park doesn't have a significant impact, bear sightings are generally more common between 10 AM and 4 PM.
Luck. There's always just that element of luck. Ultimately, wilderness can be unpredictable. No matter what you see—grizzly or no grizzly—count yourself fortunate for having spent a day out exploring this incredible landscape in such an intimate way. Either way, you're smarter for having made the effort.