Denali National Park is open year-round. Over the course of 12 months, it takes an extreme ride through the seasons. Most people visit in the summer, when lodges and tours are operating — usually early June through mid-September. Even during Denali's busy season, however, crowds are relative — once you're here, you'll never feel crowded!
Summer offers the best chances to see wildlife, the most moderate weather and the easiest time to visit as activities and lodges are all operating. Regardless of the month, the key to your visit to Denali is getting organized ahead of time.
Denali in March, April and May
As spring arrives, winter slowly loosens its grip on the park. March and April can be cold and wet in Denali. May, surprisingly, is the driest month for this area. Plowing usually begins on Denali Park Road in mid-March. Depending on conditions, private vehicles can go as far as Mile 30.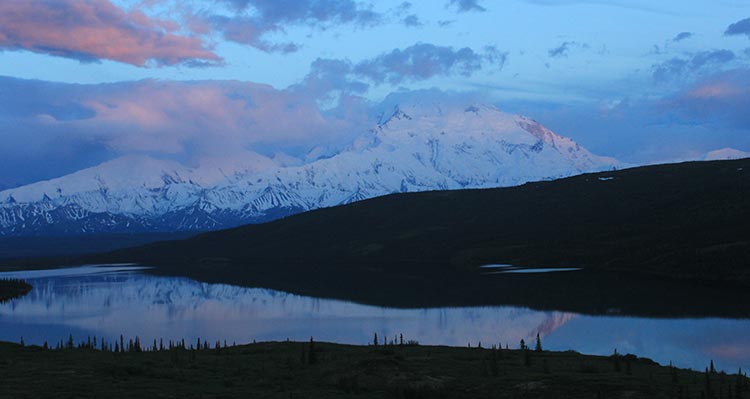 Denali in June
Late spring is short but sweet in Denali. It seems that the entire landscape turns from brown to green in only a few days at the beginning of June. Mosquitoes are usually present in Denali from June through the end of July, so remember to pack plenty of bug spray! Long days bring up to 20 hours of sunlight during June, and wildlife activity peaks as animals are busy eating and moving as much as possible. Wildflowers begin to bloom and can be seen through July.
June is also the month that lodges in and around Denali, including the all-inclusive Denali Backcountry Lodge and the cozy Denali Cabins, open for the summer. The regular shuttles into the park and most day tours also begin in mid-June.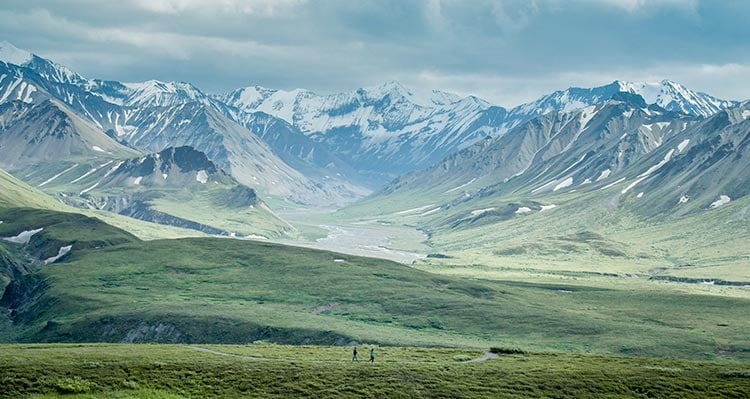 Denali in July
With comfortable weather (including the warmest temperatures of the year), long days and evenings dominated by the midnight sun, wildflowers in bloom and the entire place bursting with life, July is prime time in Denali. Wildlife is busy in July roaming, exploring, feeding, playing and soaking up the warmth as well. Activities, lodges and tours are usually booked solid at this point, so be sure to plan well ahead if you're hoping to visit. You'll likely be dealing with mosquitoes, but they're a small nuisance compared to all this majesty!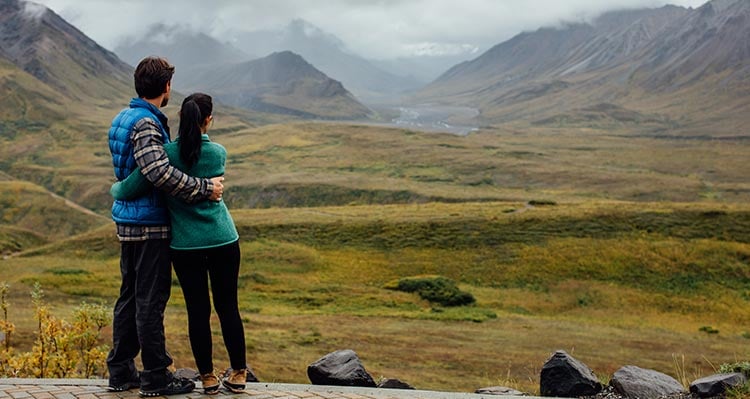 Denali in August
The warmest weather wanes after July — it's been known to snow in August and evenings are chilly. That helps usher out mosquitoes, which will have disappeared from most areas of the park by August (except wetlands).
The landscape in August is dotted with ripe berries, providing a feast for wildlife like bears. Fall foliage starts early in Denali, usually towards the end of August when the tundra turns a brilliant golden rose color. Because days are shorter, you have a better chance of seeing the northern lights as summer comes to a close.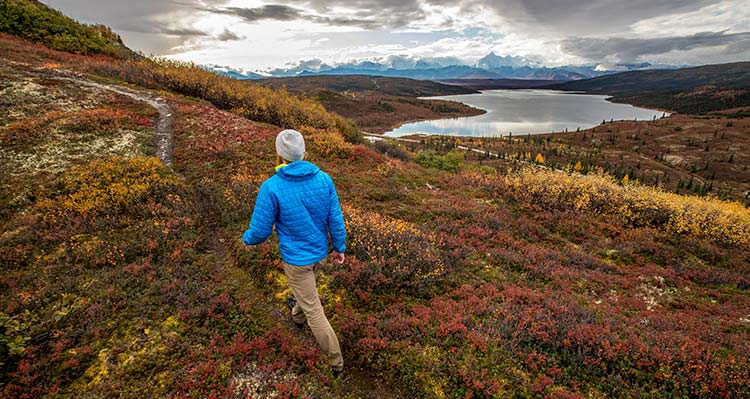 Denali in September
As soon as Labor Day comes, Denali becomes quieter. Snow on peaks and vivid colors make for outstanding photos and shorter days lead to great chances for spotting the northern lights.
Day tours and shuttles on the Denali Park Road wrap up their seasons in mid-September. The landscape turns brown, once again, before being covered in a blanket of white.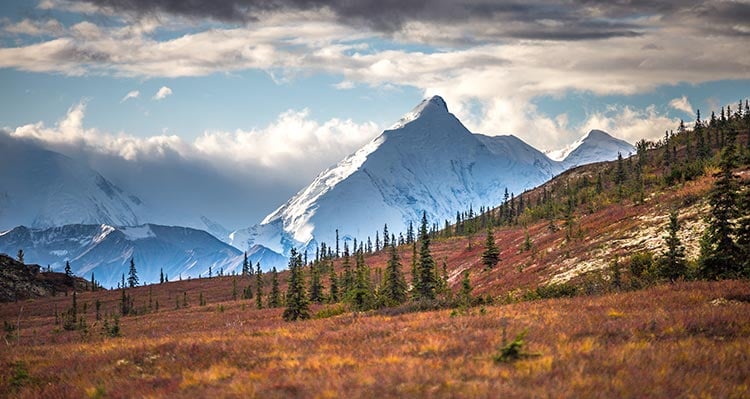 Denali in October and November
Businesses and experiences in the park begin to wrap up in October. Lodges, outfitters, shuttle buses and campgrounds are all closed as winter temperatures and conditions begin to hit.
Denali in December, January and February
The dark, deep freeze of winter dominates Denali. Wildlife move into hibernation or low-activity modes, and some creatures migrate to warmer climates. Nordic skiing, winter biking and snowshoeing are optional activities but temperatures can drop below -40 degrees F.
From frozen winter wonderland to rugged and wild summer destination, Denali National Park holds its majesty throughout the year in its many forms. Make sure you pick the right time to visit for your favorite activities and adventures, and experience Denali your way.