You've got questions about visiting Denali National Park? We've got answers!
Can you stay in Denali National Park?
While the bulk of the hotel, cabins and lodging options for Denali are located just outside the park gates, there are a few lodges actually located inside the park. These are 'wilderness' or 'backcountry' lodges (like the Denali Backcountry Lodge, which is located 92 miles into the park in Kantishna and is currently only accessible by helicopter transfer — see below). These lodges generally have exclusive or restricted access and need to be booked well in advance.
Camping is also possible inside Denali at designated sites. But again, it's important to reserve ahead!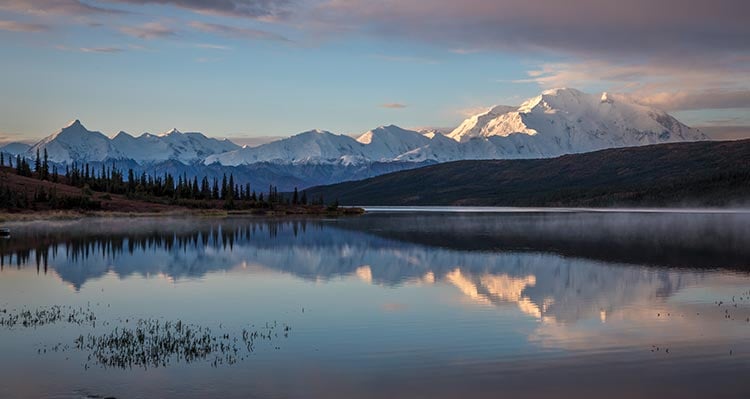 What is the Pretty Rocks landslide and how might it impact my visit?
Since August 2021, the Denali Park Road has been closed beyond Mile 43 due to the Pretty Rocks landslide. The landslide has been active since the 1960s near Mile 45.4, causing minor inconveniences in past years. In 2021, however, the Pretty Rocks landslide's impact on the Denali Park Rock progressed to a rate no longer manageable, and the National Park Service made the decision to close the road for the foreseeable future.
While Denali Park Road remains closed to road traffic at Mile 43, you can still experience the serenity of deep Denali with a stay at the Denali Backcountry Lodge, which now includes heli-transfers in and out for guests.
Can you drive through Denali National Park?
Personal vehicles can drive as far as Mile 15 on the Denali Park Road. Past that point, only buses run by outfitters or those run by the National Parks Service have road access. These buses operate in summer only (around late-May through mid-September).
Due to the Pretty Rocks landslide, no road vehicles can access beyond Mile 43 at this time.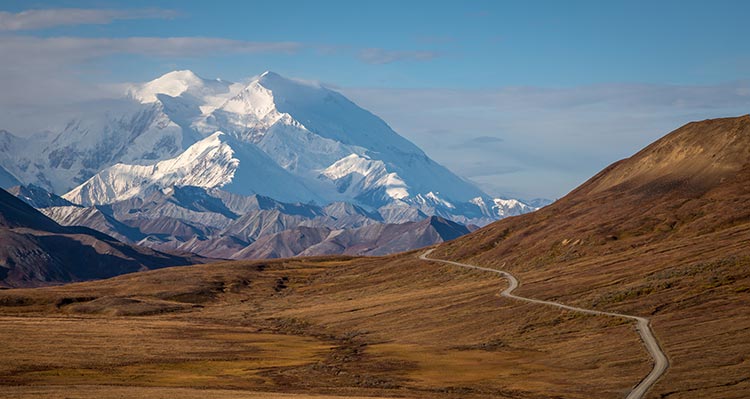 What is the closest city to Denali?
The closest city of any size is Fairbanks, Alaska. It's located 125 miles northeast of the entrance to Denali National Park.
How do I get to Denali?
There are a number of ways to get yourself and your adventurous spirit to Denali. Denali's main entrance is located at Mile 237 of Highway 3, also known as the George Parks Highway. It's about 240 miles north of Anchorage. This is the only road entrance to the park. If you have a car (owned or rented) you can drive from the south via Talkeetna or come down from the north.
Visitors can also take a ride on the Alaska Railroad from either Anchorage or Fairbanks. As well, motorcoaches have regularly-scheduled services from Anchorage and Fairbanks which take you to the Denali Park Entrance.
Finally, you can arrive in Denali by small plane via companies like the Kantishna Air Taxi.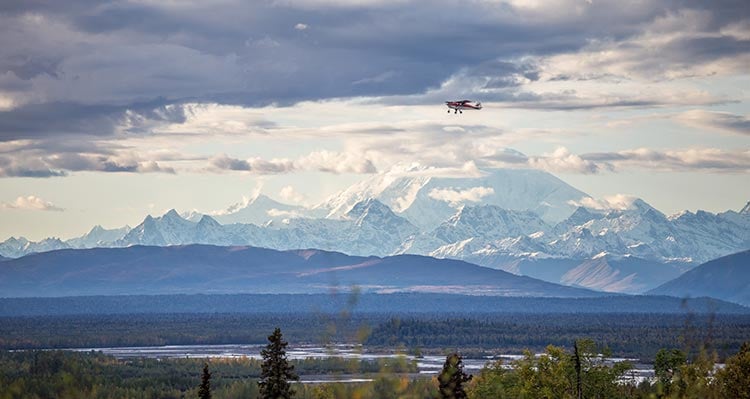 What is Denali named for? What does "Denali" mean?
"Denali" is believed to mean "high" or "tall" in the Athabascan language of the people who first inhabited central Alaska and have lived here for centuries.
In 1896, a gold prospector gave it the name "Mt. McKinley" after then presidential candidate William McKinley. The US Government made Mt. McKinley the official name from 1917 until 2015, when it became recognized by its original name again.
How high is Denali?
Denali is the highest peak in North America, with an elevation of 20,310 feet (6,190 m). From base to peak, it reaches 18,000 ft (5,500 m), making it one of the tallest peaks on Earth. Viewed another way, if you measure its prominence (or the distance from its summit to its contours), Denali is the third most prominent and third most isolated peak on Earth, after Mount Everest and Aconcagua. It's an epic, thrilling and beautiful sight to see!
What other questions do you have about Denali? Ask our Alaska Travel Experts—they'd love to help you!