It's a big year for Denali National Park
This year, 2017, marks 100 years since President Wilson signed the paper that created Mount McKinley National Park - forever preserving the vast wilderness surrounding North America's tallest peak. That act, spurred on by the tireless work of naturalist Charles Sheldon, represented a vision for a national park that gave legal protection to vast expanses of habitat where large mammals could thrive. One hundred years later, this vision remains intact. Now that's worth celebrating!
Sheldon was a hunter-naturalist in the Theodore Roosevelt tradition - an upper class fellow who blended intellectualism and philanthropy with a deep connection to the wilderness. He was a wealthy Vermont native drawn to the Alaska Range by his fascination with Dall sheep. From 1906 through 1917, he traveled deep into the region and then lobbied the US government, constantly planning and plotting to create a 'game park' that would draw visitors while helping preserve the remarkable wildlife of the area.
Of course, the history of Denali goes back to the beginning of time. "The Mountain" or "the Great One", as it has been known by local Native groups, has long stood above the land, forming the central apex of the Alaska Range, which today forms the spine of Denali National Park. The park's glaciers have been on the move for two million years. There's a lot of history here.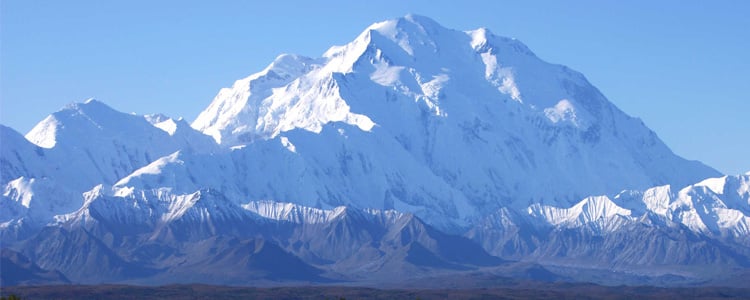 This year, though, we're taking time to recognize the achievements of the past 100 years. Throughout the summer, the National Park Service has organized events to celebrate.
Here's a short timeline of the human highlights from the past century:
1896: A prospector names the spectacular 20,310 foot peak "McKinley", after the presidential candidate he happens to be supporting.
1910: First recognized summit of McKinley's North Peak.
1913: First summit of the taller South Peak.
1914: US Congress passes the Alaska Railroad Act. The following year, the route from Seward to Fairbanks via Talkeetna was selected.
1917: President Wilson formally creates Mount McKinley National Park.
1939: Park Road is completed to Wonder Lake.
1947: Barbara Washburn becomes first woman to summit Mt. McKinley.
1972: National Park Service limits travel by personal vehicles on the Denali Park Road.
1976: President Jimmy Carter designates the park as an international biosphere reserve.
1980: Mount McKinley National Park was combined with Denali National Monument to create Denali National Park & Preserve. The Alaska Lands Act of 1980 resulted in the park nearly tripling its size.
2015: "The Mountain" is officially renamed back to its original name, Denali.
2017: Denali National Park celebrates 100 years. Visitors are encouraged to connect with the park's incredible human and natural history and to log 100 miles of human-powered activity. Run, walk, ski, bike, paddle or snowshoe your way through 100 miles in Denali this year!
Join us in Denali this summer and make your mark.