They're what we'd call "frequent floaters". This wonderful couple from Texas can't seem to get enough of Kenai Fjords National Park.
It seems taking wildlife and glacier cruises in Kenai Fjords has gotten in Ronnie and Sue Waide's blood. For 14 years, the octogenarians have made an annual trip from Canyon, TX to Seward, AK, and spent as much time as possible cruising with Kenai Fjords Tours. This past summer alone, they celebrated their 60th wedding anniversary and went on 14 different cruises. Fourteen! That definitely qualifies them as "frequent floaters".
"What do we like about it? Pretty much everything," Ronnie Waide says.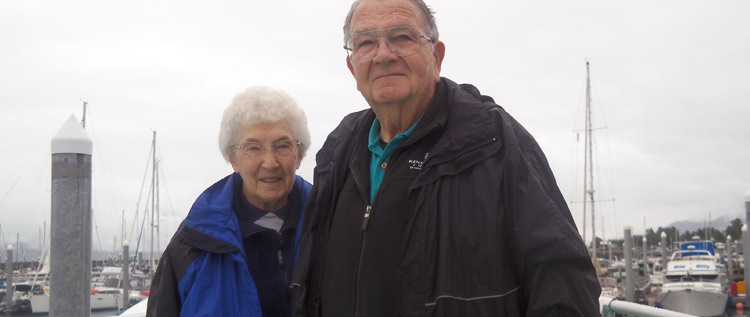 A retired university science professor, Ronnie Waide is a keen photographer. He has a photographic record of the Aialik and Northwestern glaciers dating back 15 years now. It's a scholarly and noteworthy observation. And he says he has witnessed a remarkable return of humpback whales since his first visit in 2003, in numbers that have grown as a result of strong conservation efforts.
Waide says he also has thousands of images of breeches and Orca "superpods" and just about any wildlife you can imagine seeing here. It's his drive for the best photo that keeps him going out day after day. "To get the picture you want, you need to be out there a lot," he says.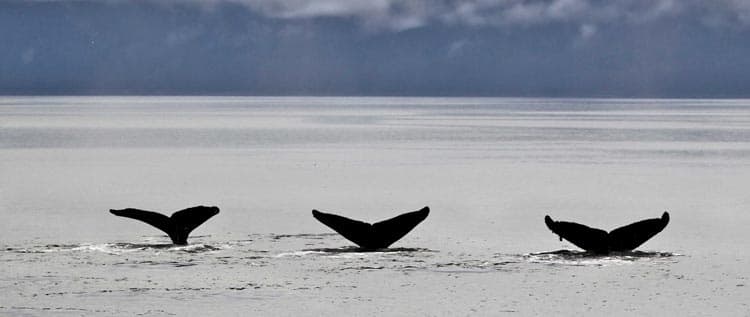 The fact that they are now in the 80s doesn't seem to have slowed the Waides down. They continue to annually fly from Dallas to Anchorage each June, pick up their rental motorhome, park it at the beach in Seward and soak it all in. Over the years, they've also visited Denali, Juneau, Valdez and Fairbanks.
Canyon is in the Texas panhandle near Amarillo, an area Waide describes as "flat prairie". The contrast with Kenai Fjords couldn't be greater.
More than anything, Waide says he truly just enjoys "being on the boats."
Over the years, they've become good friends with the team at Kenai Fjords Tours, and that's part of the annual draw for him too, he says. "We love the people. They're really exceptional."
The feeling is mutual.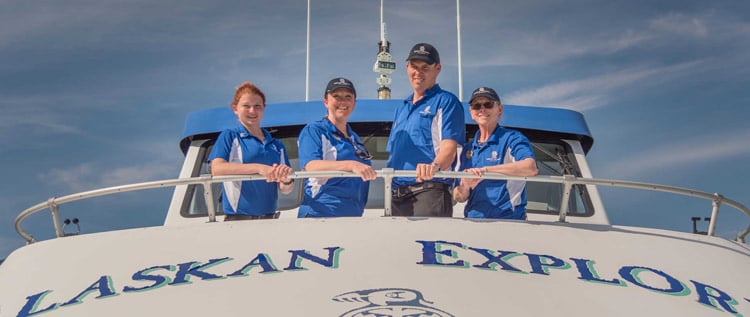 "They are incredibly nice folks, and we really enjoy having them here," says Geri Nipp, Marine Operations and Passenger Services Manager for Kenai Fjords Tours.
Ronnie and Sue always give one another a KFT tour as a present. Whatever the occasion – Valentine's Day, Father's Day, Mother's Day, birthdays, it's always a KFT trip for them. That's how they've managed to keep going out so frequently.
And while Waide says "there are no guarantees when you are 80", he is already looking at the schedule for the summer of 2018.
We can't wait to welcome you back, Ronnie and Sue!