Alaska's pristine icy waters are the perfect habitat for the world's largest mammals. A variety of cetacean species—whales, dolphins and porpoises—frequent the fjords, inlets, bays and open ocean surrounding America's northernmost state and especially in Kenai Fjords National Park.
However, it's the majestic whale that garners the most attention. These social creatures are beautiful, graceful and mystical, which is why whale watching is one of Alaska's top outdoor adventure activities. The bonus? It's a super accessible pursuit, suitable for any age and athletic ability.
Want to learn more about Alaska's whales? We've answered all of the important what, when, where and how questions below.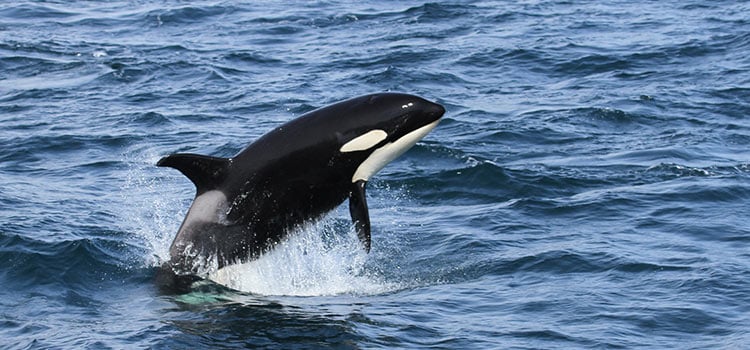 What whales can be found in Alaska?
Alaska plays host to a number of whale species, which either inhabit or migrate through its coastal waters. In the Kenai Fjords National Park region, Humpback, orca (killer whale), fin whale and gray whales are the most commonly sighted species. However, for the lucky adventurers, blue, sperm and minke whales can also make an appearance in other regions of Alaska.
When can I see whales in Alaska?
Certain species of whales—like the orca—live and hunt in the state's bays and inlets and can be sighted year round. But it's the summer months that offer the best viewing opportunities. Gray whales are the first to arrive, typically in April when they're often spotted off of Seward. By May, we start to see more orcas, then humpback whales come June.
Alaska's peak whale season is considered to be May through September, and it's during this time that the boat tours operate.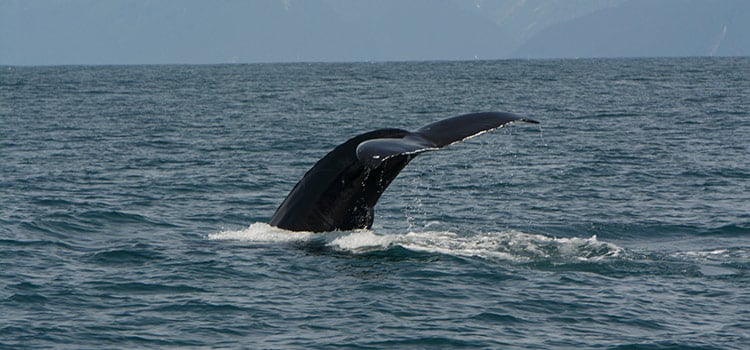 Where can I see whales in Alaska?
Whales can be seen throughout Alaska's coastal waters—from the Gulf of Alaska in the south, to the eastern Bering Sea and northern Beaufort Sea. This is especially true during the prime summer season.
One of the most reliable spots for successful whale watching is Resurrection Bay in Kenai Fjords National Park, near the bustling port of Seward. Boasting a rich marine ecosystem, the stunning protected bay offers exceptional whale watching. The area is also home to otters, harbor seals, Stellar sea lions, bears, puffins and bald eagles.
How can I see whales in Alaska?
In peak season the mysterious giants can often be sighted from shore. But, for next level whale watching you'll need to get out on the water. A boat cruise will put you directly into whale territory. It's also a bucket-list adventure that offers so much more than just the main attraction. Think ancient glaciers, towering rainforests and wildlife galore.
When choosing a tour, look for a reputable Whale SENSE certified company, like Kenai Fjords Tours, that adheres to responsible marine practices.
Are there endangered whales in Alaska?
Sadly, the answer to this question is yes. There are whale species listed as federally endangered in Alaska, according to US Fish & Wildlife. That includes sperm whales, North Pacific Right whales, blue whales and finback whales. Thankfully there is also growing awareness around marine conservation and the importance of employing sustainable practices.
Whale SENSE is just one initiative that uses education to help protect the majestic creatures. When selecting a whale watching tour operator in Alaska, it's important to ask if it participates in the voluntary program.
What brings whales to Alaska?
Migration is the primary reason whales are so prevalent off the coast of Alaska during the summer. Most species are journeying back home after spending the winter months in the warmer waters off of Hawaii, Baja California, Mexico and Central America. As water temperatures rise, whales return to Alaska's cooler feeding grounds.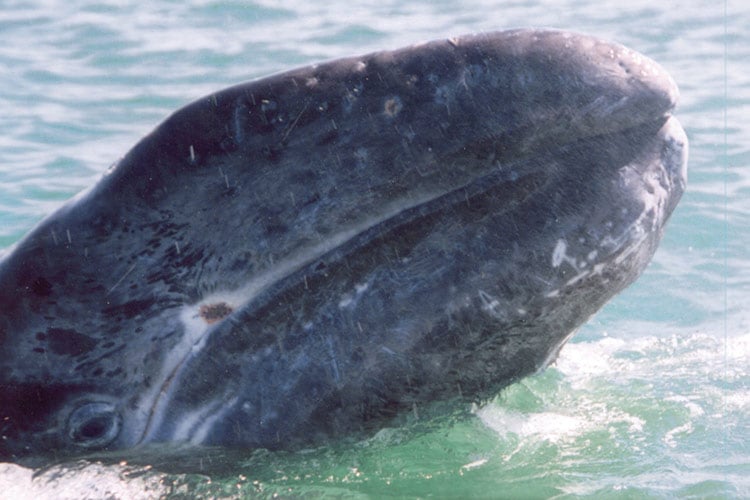 What do whales in Alaska eat?
What a whale eats is dependent on the species. Orcas, for instance, are powerful, skilled hunters and are categorized in three sub-species—resident fish eaters, transient marine mammal eaters and offshore orcas. Residents form larger pods that can surpass 100 members and feed mostly on fish. Transient orcas are typically found in pods of just 10 and hunt small marine mammals. Offshore orca feed mainly on marine mammals.
Gray whales prefer to feed on the tiny crustaceans found on the muddy ocean floor, while blue whales gulp swells of krill. Humpback and minke also feed on krill, as well as schools of tiny fish. The beluga is another bottom-feeder and preys on octopus, squid and fish.
Learn more about Alaska's amazing whale watching and see them for yourself this summer by joining us for the experience of a lifetime with Kenai Fjords Tours.