Yes, it was really, really cold. For the sixth year, Geri Nipp jumped into the frigid waters of Resurrection Bay in late January.
The General Manager of Kenai Fjords Tours put her heart rate on the line for the American Cancer Society fundraiser at the wacky annual Seward Polar Bear Jumpoff Festival. It's a cause very close to her heart and to her family. In the lead-up to the event, Geri raised more than $2,500. And, with the frigid Alaska waters hovering around freezing, Geri jumped in and beelined it to shore.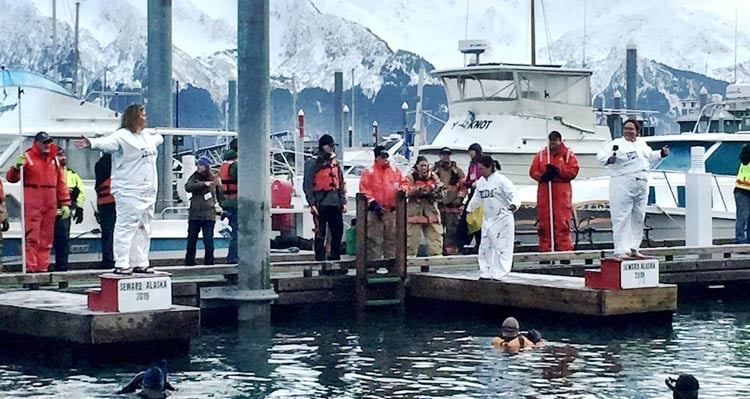 "In the pictures you can see a thin layer of ice on the water," Geri says. "The divers mostly cleared it out in the area where we jumped. But when I was swimming back to the ladder, there was sea ice floating around my face!"
A chance to do something good
So many people are touched by cancer. Geri says that, like many people, she sometimes feels helpless watching loved ones suffering with cancer, and struggles with finding a way to help them get better.
"This jump is something I can do, for them and others who are and will be affected by this disease," she says.
Each team in the Jumpoff Festival comes up with a theme. Geri and her team, which includes a number of former Seward residents who have since moved to Texas but were keen to come back this year for the Dip, were inspired by Shark Week—each adopting a day of the week on their costume and adding shark fins to their outfits.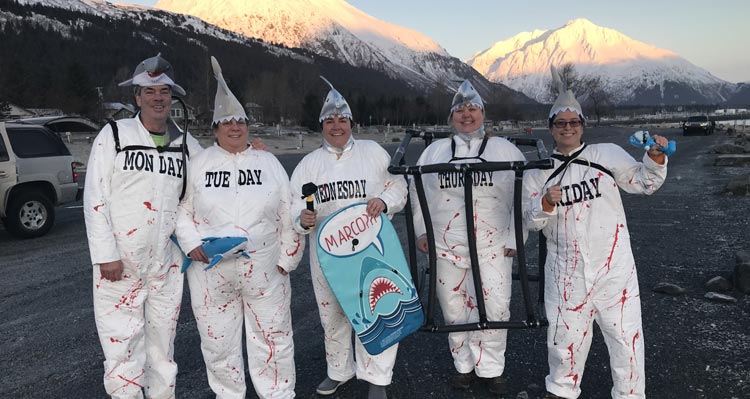 "We thought it was cute, as it is ocean-related and you can take a 'bite out of cancer'," she says.
The Texans "traveled here just for the weekend to jump with the team." Geri says her team is definitely dedicated.
Geri, who first came to Seward seasonally in 2001 and moved permanently in 2004, is actively involved in the community. She sits on the school board, the Seward Chamber of Commerce board of directors and the Tsunami Swim Club board of directors.
"I think we counted that we have jumped a total of 42 times between the five of us," she says. "Two people have jumped 11 times now!"
Seward Community Spirit
The Jumpoff Festival has grown into a multi-day event that includes contests, auctions, games and a parade, Geri says. Besides the Texans, people come from all over Alaska each January to take part. It's a cornerstone of the winter activities in Seward—giving a boost to the local economy as well as a chance to raise funds for a worthy cause.
"It's really a boost to the Seward community financially, bringing a lot of people here in the middle of January," Geri says.
This year, 99 people made the pledge to take the plunge. The event raised more than $135,000 dollars for the American Cancer Society.
And that's more than enough to warm your heart, even in 36-degree water.