No matter what kind of call to adventure you're looking for, chances are one of Alaska's eight national parks has your answer.
Within each park's boundaries, the northern frontier flourishes with unique sights, sounds and activities. Here are just a few of the things that makes each park special.
Denali National Park & Preserve
The sprawling nature and relative accessibility of Denali National Park attracts visitors from around the globe. Advanced mountaineers take on namesake Denali, North America's highest peak, and other Alaska Range expeditions. For the less vertically inclined, adventure abounds through hiking opportunities. Marked trails are limited, meaning trekkers often blaze their own path among resident wildlife like moose, Dall sheep and bears.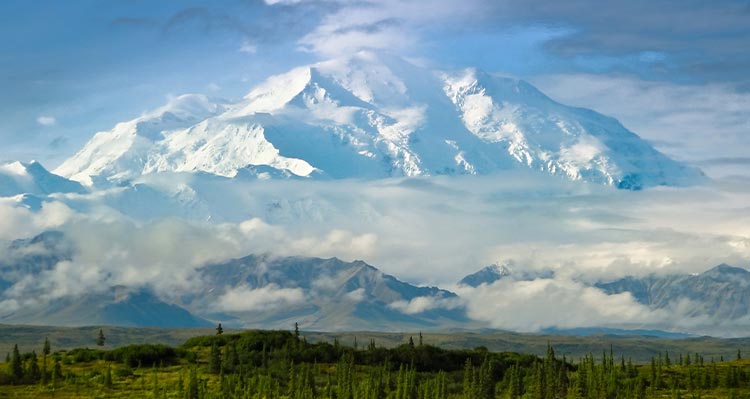 Fun Fact: Denali was first summited on June 7, 1913. Today, roughly 500 to 600 climbers may be on the mountain's West Buttress route at any given time during peak season (late May to early June).
Wrangell-St. Elias
As the United States' largest national park, Wrangell-St. Ellias is home to an impressively diverse range of environments. Spanning the convergence of four mountain ranges, the park houses sky-scraping peaks, volcanoes and glaciers, along with boreal forests, extensive river systems and more. With diverse country comes a plethora of activities to explore, including hiking, boating, fishing and camping.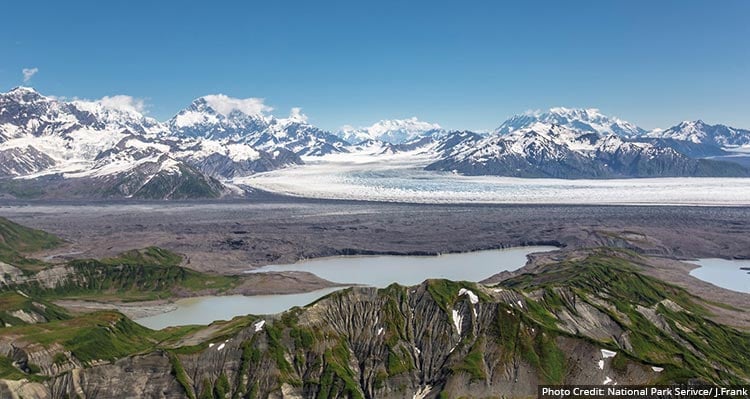 Fun Fact: At 13.2 million acres, Wrangell-St. Elias is larger than Yellowstone National Park, Yosemite National Park and Switzerland combined.
Lake Clark National Park & Preserve
With no roads leading to Lake Clark, most visitors arrive by small plane, setting the tone early for the myriad adventures the park offers. Lake Clark is located roughly 120 miles southwest of Anchorage and visitors tend to make the trip for angling, rafting, camping and backpacking. Other activities like birdwatching, brown-bear viewing and day hikes along the Tanalian Trails allow further exploration of the park's serene refuge from civilization.
Fun Fact: Lake Clark allows for a true escape as the second-least visited park in the U.S. National Parks system, with only 17,157 visitors in 2019 according to National Geographic. The only park less crowded was Gates of the Arctic, with just over 10,000 visitors the same year.
Gates of the Arctic National Park & Preserve
Located north of the Arctic Circle, Gates of the Arctic offers an experience far from the proverbial walk in the park. With no roads, trails or visitor services, visitors must hike or fly in and have a proficient grasp on — and confidence in — their outdoor expertise. Those who do make the trip are greeted by wonders of undeveloped nature, with seemingly endless opportunity to explore the remote wilderness park as they backcountry camp in often challenging conditions.
Fun Fact: Gates of the Arctic receives continuous sunlight for at least 30 days each summer.
Glacier Bay National Park & Preserve
Glacier Bay is where ever-changing nature can be experienced first-hand. A majority of guests see Glacier Bay from aboard cruise ships, which offer views of glaciers, mountains and wildlife. You can also hop aboard tour vessels at Bartlett Cove, the only developed area in Glacier Bay. Visitors must be prepared for off-grid travels beyond Bartlett Cove, which lends well for experienced guests to camp, kayak or hike in remote settings among otherworldly geography.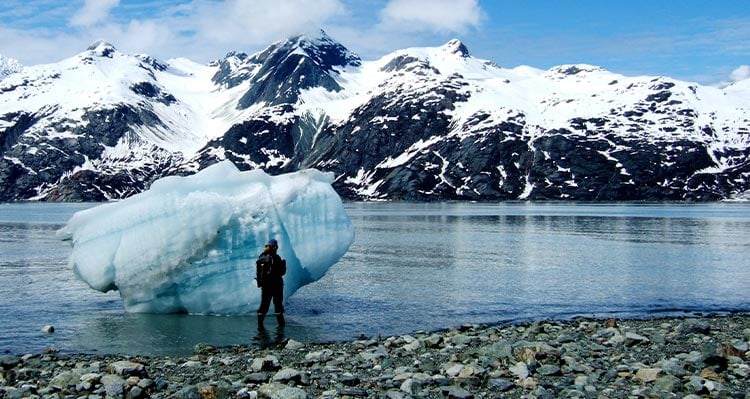 Fun Fact: As is the case elsewhere, climate change is causing a majority of Glacier Bay's glaciers to retreat and thin at increasing rates. However, because of heavy snowfall in the Fairweather Mountains, the park also houses a handful of rare stable glaciers.
Katmai National Park and Preserve
Accessible by air or boat only, Katmai's subarctic geography consists of rugged peaks, valleys and volcanoes, though its biggest claim to fame is its brown bear population.
The park's most popular destination is Brooks Camp, which hosts world-class fishing and attracts bears to feed on sockeye salmon in certain areas along the Brooks River — safely viewable from the park's observation platforms. Visitors to Katmai can also depart from Brooks Camp to visit the volcanic landscape of the Valley of Ten Thousand Smokes, accessible by tour or individual hike.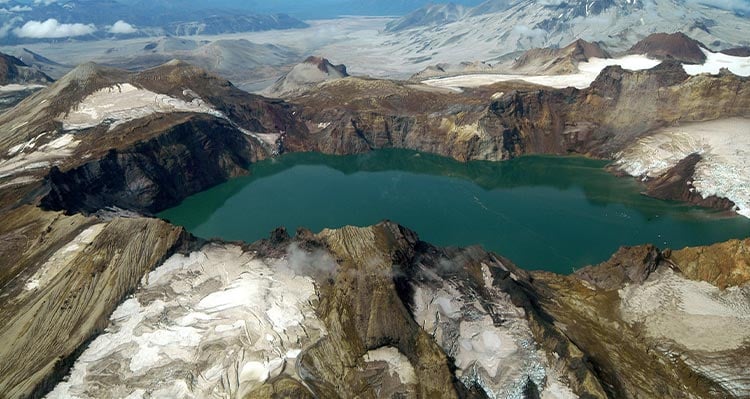 Fun Fact: The barren landscape of the Valley of Ten Thousand Smokes was shaped by the eruption of Novarupta on June 6, 1912. The eruption, which lasted 60 hours, was the largest of the 20th century.
Kobuk Valley National Park
Sand dunes likely aren't the first thing that comes to mind when thinking of Alaska wilderness. But in Kobuk Valley, located just north of the Arctic Circle, the stunning Great Kobuk Sand Dunes may change that idea.
While the dunes offer a unique spot to hike and camp, adventure continues in the coniferous forests and flowing rivers of Kobuk Valley, which make it a destination for floating, boating and fishing. Aerial views of the dunes are also available through chartered flights.
Fun Fact: Excavations at Onion Portage (a historic caribou hunting site in Kobuk) have found evidence of nine different cultures dating back at least 8,000 years, making it one of the oldest sites in the Arctic.
Kenai Fjords National Park
From sky-high rock walls and tumbling glaciers to ginger-beaked puffins and abundant marine life, the natural wonders of Kenai Fjords extend far beyond its shoreline. This area is home to wildlife like gray whales, orcas, sea otters, Steller sea lions and eagles. The best way to scope out these resident creatures and land formation is on a boat tour like Kenai Fjords Tours, which allows unprecedented viewing access.
Those who prefer staying land-bound can admire the beauty of the park through hikes such as the deep-burn-inducing, 8.2-mile Harding Icefield Trail.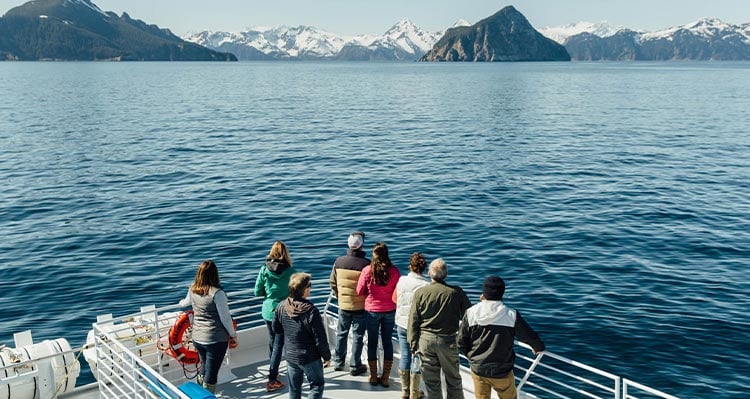 Fun Fact: More than half of Kenai Fjords' land mass consists of the 700-square-mile Harding Icefield and its outflowing glaciers. The formation of this icefield dates back to the last Ice Age.
Planning ahead is key when headed to one of Alaska's parks. Before you embark, visit the National Park Service's website to check closures, seasonal recommendations and other essential info.