If you plan to travel to the Last Frontier this season, then it's best to familiarize yourself with the local lingo. You might hear the phrase "breakup" in place of "spring" up north. When daylight comes back and the temperature warms, breakup arrives in Alaska!
Why is it called breakup?
The Alaska term for spring comes from the process of ice literally "breaking up" and snow melting and turning to slush. If the winter freezes rivers into solid sheets of ice (sometimes strong enough to hold vehicles) then breakup is when that ice melts and starts breaking away into pieces.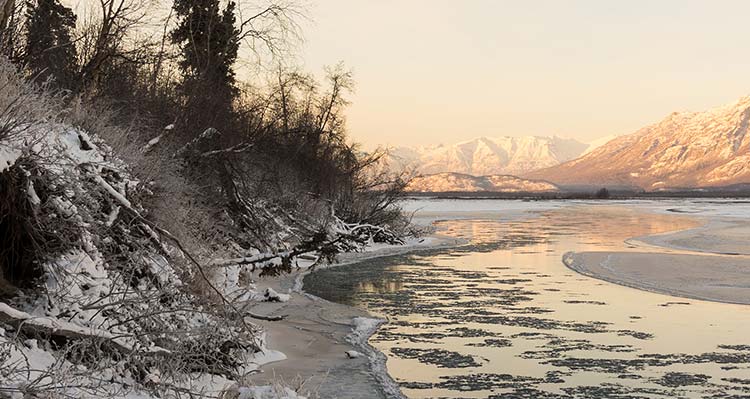 Besides its literal meaning, Alaskans also know breakup season's arrival means it's time to "break up" with their favorite winter activities. From skiing to snowshoeing to skating, the ice and snow melt means it's time to discover new pastimes.
From as early as the last week of March, the weather can be somewhere between winter and summer, but unlike other states further south, the snow takes a while to melt away and make way for new growth. Thus, breakup seems like a more appropriate way to describe this season in Alaska.
Breakup also offers the last chance for winter adventure as the weather warms and the snow begins to disappear. If you're staying at Talkeetna Alaskan Lodge, you can take advantage of the last signs of winter with complimentary snowshoes and sledding disks rentals for on-property trails and hills.
What activities can you do during breakup?
This season in Alaska, like many other travel destinations, is typically considered the "shoulder season." For those looking to avoid major crowds, save a little on the price of accommodations and activities and enjoy some peace and quiet — breakup in Alaska is right for you.
It's not all melting snow and slush. While you might want to bring some waterproof boots to explore Alaska during this time, there's still plenty to enjoy — both indoors and outdoors — during breakup.
Many animals come out during this time of year, including gray whales, who are the first migratory whales to return in the spring. You might spot them aboard a Kenai Fjords Tours cruise. Other wildlife spotting may include moose, caribou and bears beginning to wake up from their winter slumber.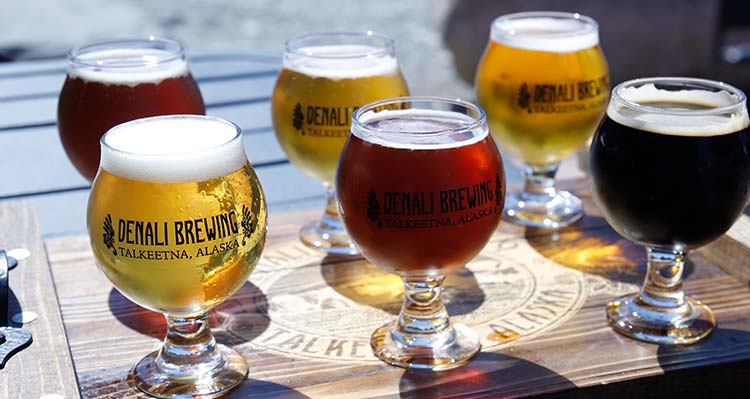 There's plenty of fun to be had inside, as well. Talkeetna Alaskan Lodge hosts breakup events throughout the season, including local live music every Sunday night in the lobby. You can also get the whole family together and enjoy Friday Night Board Games. Plus, for adults only, check out Thursday wine tastings or sample brews from 49th State Brewing, Midnight Sun Brewing Co. and Denali Brewing Co. on other evenings!
Can you see the northern lights during breakup?
The short answer: yes, depending on when you visit. Because Alaska gets close to full days of sunlight in the summer season, also known as the "midnight sun," it's hard to see the aurora borealis around that time of year. The best time to see the lights is typically between August and April, when there is less sun.
If one of your main Alaska trip goals is to see the famed northern lights, you might want to consider an early- or late-season stay at Talkeetna Alaskan Lodge. Why? Because the lodge offers a wake-up call service specifically for those interested in seeing them!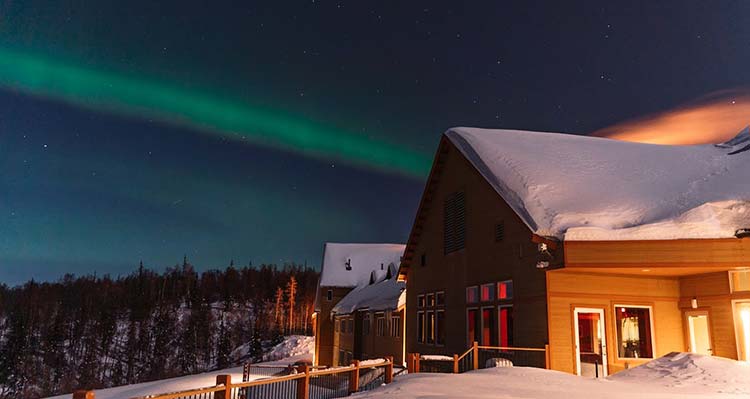 The staff at the lodge have a dedicated process for alerting guests about the lights being visible. "Rule of thumb is if the sky is clear, staff is on a 15- to 20-minute rotation where they should be walking out on the deck, checking the sky then coming back in," says Ashley Fox, front office manager at Talkeetna Alaskan Lodge. "If there's any action, staff are supposed to start calling the list of rooms, take a break to go outside and make sure it's still going, and then continue the list."
You can get a call well into the early hours of the morning, if requested. The main takeaway is that the aurora borealis comes and goes quickly, says Fox, so if you get a call, don't rest your head. Jump out of bed and head down to the viewing deck ASAP.
There's plenty to do and see in Alaska during breakup — you won't want to miss the chance to explore this unique season in the Last Frontier!