By combining a Cross-Gulf Cruise and a land tour, you'll get to relax and explore, recharge and adventure, and see it all.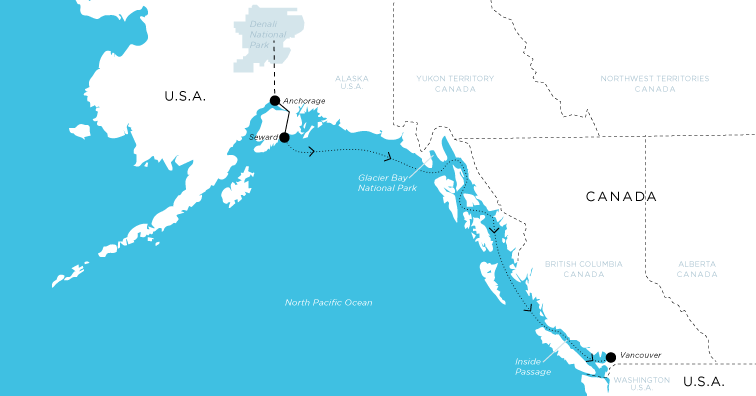 You're probably wondering how to make it happen. Here are some of our most commonly-asked questions about planning an ultimate Alaska adventure, by sea and by land.
How much of Alaska do you want to see? Decide between a round-trip cruise or a cross-Gulf itinerary. Several cruise lines offer round-trip itineraries from Seattle or Vancouver, BC, typically 5- to 7-day cruises that travel as far north into Alaska as Juneau, before making the return trip back. These cruises are a great way to see some of Southeast Alaska and the shores of British Columbia, twice. It's great for people who are short on time and are looking for a taste of Alaska. (We like to call this the "starter pack" since these cruisers tend to come back again to do the land tour as a separate vacation)

Alternatively, there are also what we call "cross-Gulf" cruises—one-way cruises that follow the same itineraries through Alaska's Inside Passage but instead of making the return trip to the departure port, they continue sailing across the Gulf of Alaska (ergo "cross-Gulf cruise") and disembark in South Central Alaska. Most cruise lines with this type of itinerary use the port of Seward, a small community about two hours south of Anchorage. You can take this itinerary north-bound or south-bound.
What to do first - explore by land or relax with a cruise? The great thing about a cross-Gulf cruise is that you can tailor this to suit how you like to travel. Are you ready to sit back and relax as soon as you start your trip, and charge up for adventuring or vice-versa?
Travel on your own or with a group? Do you like to travel with a group as part of an escorted tour, or on your own? Whether you like to have a tour guide or discover on your own there's plenty of ways to explore South Central and Interior Alaska. Once you have your itinerary planned out, Alaska is fairly easy to navigate. Choose from one of our suggested itineraries, or customize one with the help of our Alaska Experts.
How much time do I need? This entirely depends on how much of Alaska you want to see. If cruising on a cross-Gulf cruise, most passengers will fly through Anchorage's Ted Stevens International Airport (ANC). We recommend planning your air travel at least a day before cruise sails (or after you disembark). This gives a little flexibility in case of flight delays, lost luggage, or any other unfortunate travel mishap that could cause you to be late, plus you'll have some time to explore Anchorage, or take a day cruise through Kenai Fjords National Park. If you have 3 days to explore, consider visiting Talkeetna or unwind on the remote Fox Island. If you have 5-7 days, consider venturing into the wilderness of Denali National Park. For the ultimate land and tour combo, consider the Awesome Alaska itinerary.
Plan Ahead. Some of Alaska's more remote destinations and higher-demand tours frequently sell-out during the peak travel times. If there's something you really want to see or do, advance reservations are recommended. It's also important to remember that Alaska is a BIG place, and everything tends to be a bit farther—and takes a bit longer—to get around than you expect. Give yourself plenty of time to get out and enjoy your time here.
To get busy planning—and confirming—your Alaska cruise and land adventure, call our team of trip planning experts at 1.800.808.8068.