Alaska is a wild and rugged land. Its raw beauty and diverse array of natural attractions draw visitors from around the world. And, when you're here, you're most definitely playing outside.
Here in Alaska, we say, "There's no such thing as a bad weather, just bad gear." Dressing appropriately is critical for maximizing your adventure! And our other favorite is, "If you don't like the weather, just wait 10 minutes—it'll change." Given the vast size of our state, and the diverse landscapes, we can see extreme differences in our weather. In Anchorage, it's proximity to the ocean provides use with a more moderate winters than Talkeetna, for example, where temperature are typically colder.
To help guide your packing list we're sharing everything you need to know about the weather in Alaska.
What is the weather like in Alaska?
The short answer is "variable". Alaska is the largest state in the USA and it's bordered by water on three sides. Given its giant sprawl, Alaska's weather is truly dependent on where and when you're visiting. If you're traveling to Alaska in January, expect to experience its coldest month. Average daytime temperatures range from 5 to 30 °F (−15 to −1.1 °C).
Winter in Alaska may be cold, but the snow-draped scenes and Northern Lights are spectacular. However, if you prefer warmer weather adventures, then visiting Alaska in July will suit you best. It's the hottest month of the year, with a daily average temperature that sits around 67 °F (19.4 °C). June and August also boast summer weather, but the temperatures tend to fluctuate a bit more.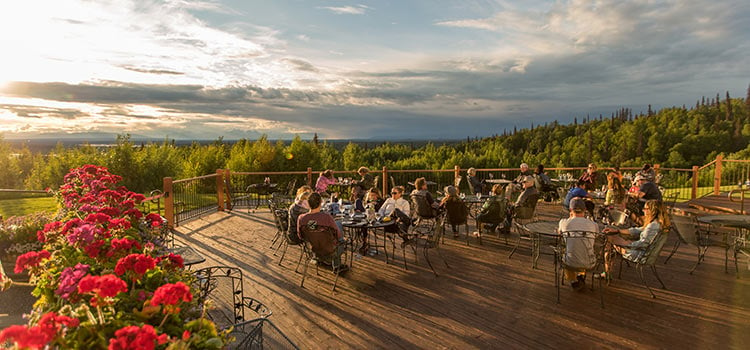 What's the weather like in Denali and the Interior?
Denali National Park is located in the interior region of Alaska. While the park is open year-round, the majority of attractions and tours are available only between the months of May and September.
The northern area of the park also enjoys warmer weather than the south. In summer, temperatures can reach 90 °F (32.2 °C), however the park average rests between 50 and 60 °F (10 to 15.6 °C). Even with warmer daytime temperatures, it can drop below freezing overnight.
The summer season is a short one in Alaska, and the weather becomes even more variable in mid-August as fall approaches. Rain is always a possibility in the summer, and snow has been known to make an appearance as well. Winter is long—October through April—snowy and cold. But it's beautiful, and adventure can be found all 365 days of the year in Alaska.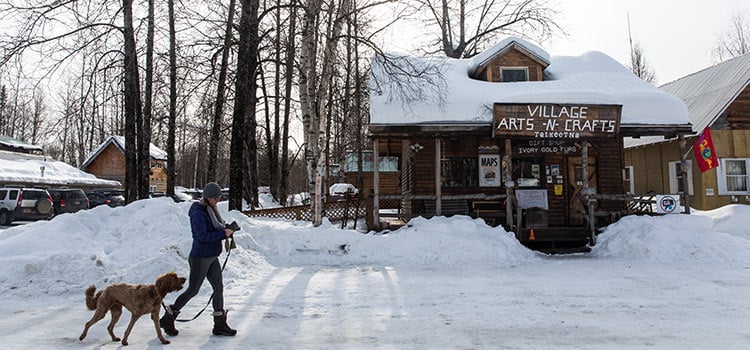 What's the weather like on the Southcentral Coast of Alaska?
Anchorage, Seward and the scenic stunner, Kenai Fjords National Park are located in Alaska's Southcentral Coast region. Landscapes in this area include temperate coastal rainforests, as well as high mountain ranges, and climate varies accordingly.
Plan for summer temperatures to hover in the mid-60s Fahrenheit (just under 20 °C). But, if you plan on exploring higher elevations prepare yourself for cooler weather and even snow. Kenai Fjords National Park is open year-round, however the majority of tours and activities run from late-May through September—with June, July and August considered peak season.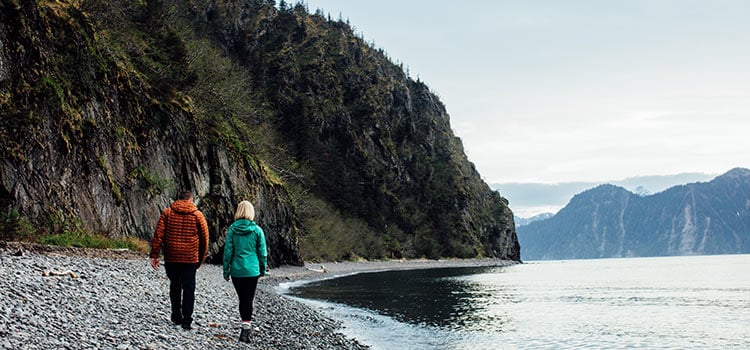 What's the weather like during the fall in Alaska?
Fall is a little like spring in Alaska—fleeting— and the weather is predictably unpredictable. Think sunshine, rain, fog, wind and snow. And all before lunchtime! Teasing aside, visiting Alaska in the fall truly has its benefits. You'll find fewer crowds than summer, as well as some significant costs savings. The fall colors are also spectacular, and shorter days mean that the Northern Lights may make an appearance. Simply pack for all four seasons and you'll quickly embrace the beauty of Alaska in fall.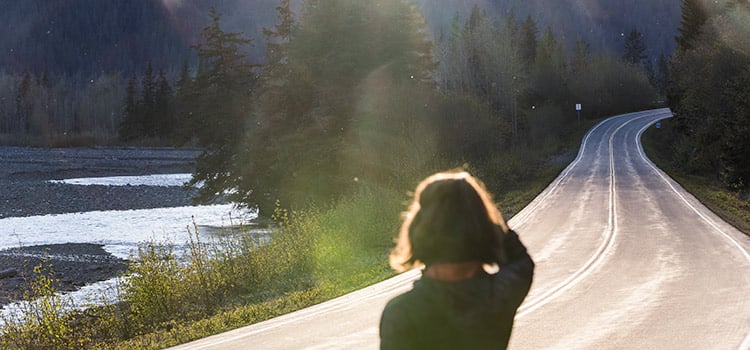 What should I pack for my Alaska adventure?
Plan to dress in layers—it will serve you well in every season. Pack warm, water-wicking under-layers and extra wool socks. Fleece pullovers and weatherproof pants and jackets are also a good idea. Rain is a constant threat on the coast. Gloves, a warm hat and sturdy waterproof shoes are a must if you're planning on hiking, or even taking a scenic glacier boat cruise or whalewatching adventure with Kenai Fjords Tours. Of course, you could be blessed with beautiful warm and sunny weather. Sunscreen, sunglasses and a sleeping mask are great suitcase staples for Alaska's long summer days.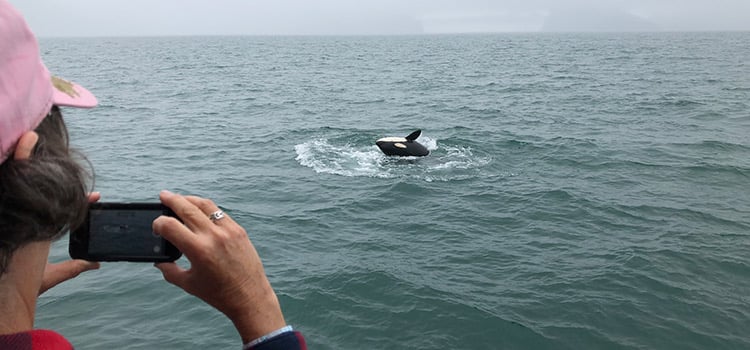 Check out our handy What to Pack for Alaska guide to download and print our Alaska packing checklist.